Nick is King!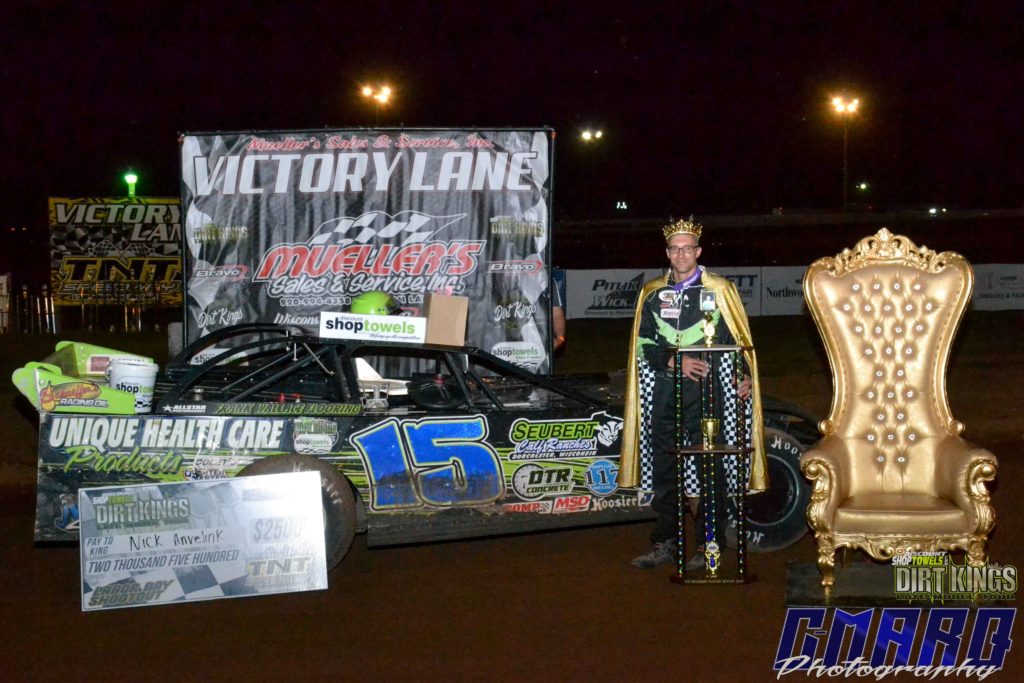 September 1, 2019 - Three Lakes, WI - Nick Anvelink returned to the Mueller's Sales and Service Victory Lane for the fourth time this season in the DiscountShopTowels.com Dirt Kings Late Model Tour Labor Day Shootout at TNT Speedway 3 Lakes WI. Anvelink led all 30 laps and had to work through lapped traffic for the majority of the race but was able to maintain his lead. In the caution free race, Mark Rose finished second, followed by Ron Berna, Troy Springborn and Brett Swedberg.
After starting on the pole, Tom Naeyaert finished sixth followed by Kyle Raddant who finished seventh and took home the Sunoco Racing Rookie of the Race Award, his first of the season. Justin Schmidt was eighth, followed by Justin Ritchie and Tim Buhler.
End of the season woes sidelined several drivers for the Labor Day Shootout including Chris Engels who posted on social media early Sunday morning that he wouldn't be able to race at TNT that night. Even though Engels is currently ahead of Mark Rose in the 2019 DiscountShopTowels.com Dirt Kings Late Model Tour point standings, Rose offered Engels his second car to race, a move that shows his true sportsmanship.
Stockbridge Engineering Touring Kings dominated the top five with Anvelink, Rose, Berna, Springborn and Swedberg followed by Justin Schmidt finishing eighth, Justin Ritchie in ninth, Tim Buhler in tenth, Chris Engels in eleventh, and Jim Schmidt in thirteenth.
The Labor Day Shootout was the first race of the Miller WeldersSeptember Speedweeks. Ron Berna was awarded the prize pack that includes welding gloves and welding jacket.
Miller Electric will also provide prize packs for drivers who race in the Jim "W1ldman" Watson Classic at Wilmot Raceway on Saturday, September 7, and the DiscountShopTowels.com 30 on Saturday, September 14 at Plymouth Dirt Track Racing. At the Crowning of the King at 141 Speedway on Thursday, September 26, Miller Electric will giveaway a Digital Elite helmet.
Four races remain to decide the 2019 DiscountShopTowels.com Dirt Kings Late Model Tour Champion. Anvelink currently leads Swedberg by 12 points, Springborn by 32 points, Berna by 37 points and Ritchie by 44 points.
Labor Day Shootout Result
P1: 15 - Nick Anvelink
P2: 0r - Mark Rose
P3: 66 - Ron Berna
P4: 81 - Troy Springborn
P5: 3 - Brett Swedberg
P6: 9 - Tom Naeyaert
P7: 03 - Kyle Raddant
P8: 97 - Justin Schmidt
P9: 70 - Justin Ritchie
P10: 7b - Tim Buhler
P11: 33s - Ron Stroika
P12: 33e - Chris Engels
P13: 79 - Jim Schmidt
P14: 27 - Derek Janke
P15: 39 - Cody Welch
Heat Race #1 sponsored by Pro Power Racing Result
P1: 03 - Kyle Raddant
P2: 9 - Tom Naeyaert
P3: 97 - Justin Schmidt
P4: 81 - Troy Springborn
P5: 7b - Tim Buhler
P6: 70 - Justin Ritchie
P7: 27 - Derek Janke
P8: 39 - Cody Welch
Heat Race #2 sponsored by Mueller's Sales & Service Result
P1: 0r - Mark Rose
P2: 66 - Ron Berna
P3: 15 - Nick Anvelink
P4: 3 - Brett Swedberg
P5: 33e - Chris Engels
P6: 33s - Ron Stroika
P7: 79 - Jim Schmidt
Allstar Performance Hard Charger Award: Brett Swedberg
Amsoil/Freedom Synthetics: Ron Stroika
Behling Racing Products Certificate: Justin Schmidt
Wehrs Machine Certificate: Mark Rose
Autometer Certificate: Mark Rose
Wilwood Lucky 13: Jim Schmidt
QuarterMaster Hard Luck Award: Chris Engels
Keizer Aluminum Wheels Certificate: Brett Swedberg
Sunoco Race Fuels Rookie of the Race: Kyle Raddant
Miller Electric September Speedweek Award: Ron Berna