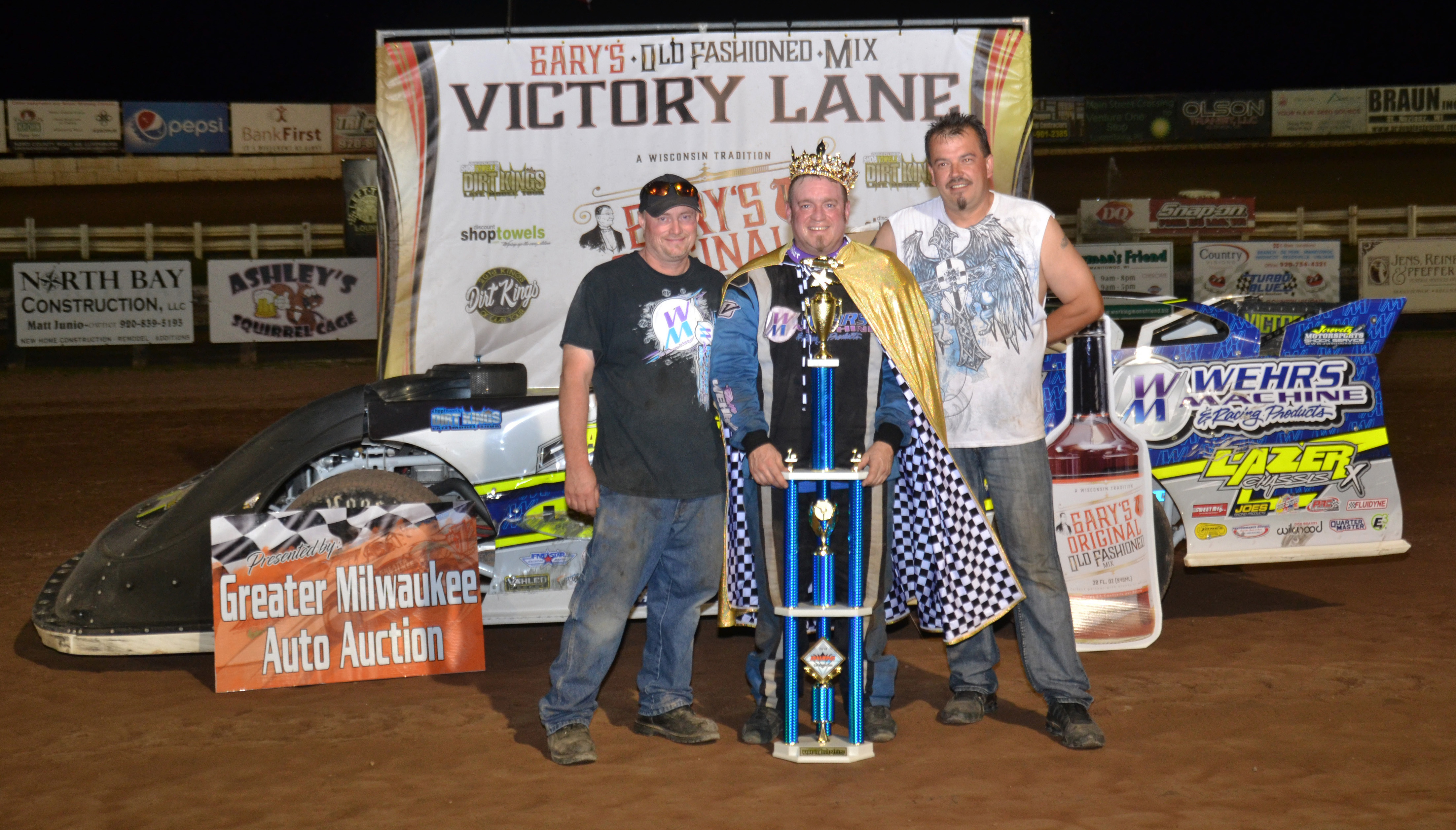 Jared is KING!
Jared Siefert worked his way outside of AJ Diemel to pass for the lead on lap nine of The Diamond 40 presented by Greater Milwaukee Auto Auction at 141 Speedway. Siefert never looked back as he went on to win his first DiscountShopTowels.com Dirt Kings Late Model Tour race and earned himself a $4000 payday. Siefert started the race from outside of row two as Diemel and Jim Schmidt led the 24-car field to the green flag. Caution slowed the field before the first lap was completed for a multiple car incident in turn three that collected the cars of Brett Swedberg, Dave Fieber, Mark Rose, and Jimmy Mars. Diemel and Schmidt led the field back to the restart with Diemel taking the lead. Siefert battled with Schmidt for a lap before Siefert prevailed and set his sights on Diemel. By lap seven, Siefert was closing in on Diemel, but Diemel continued to hold the lead. Siefert passed Diemel for the lead and then started to encounter the tail end of the field. The second caution of the race came on lap eleven as Swedberg and Letizia tangled in turn two and had to be unhooked.
On the restart, Siefert led Diemel, Tim Buhler, Schmidt, and Nick Anvelink to the green flag. As Buhler battled outside of Diemel for second position, Siefert continued to pull away from the field. At the halfway mark, Siefert had a full straightaway lead over Buhler and Diemel.
With side-by-side racing throughout the field, lapped traffic had helped Siefert pull away to large leads over Diemel and Buhler, but with just a few laps to go, the lapped traffic allowed Diemel to close the gap on Siefert. Siefert held off Diemel by two car-lengths to take the win and visit Gary's Old Fashioned Mix Victory Lane to be crowned King.
Diemel held on for second, Nick Anvelink was third followed by Buhler, Ron Berna and Chris Engels. Justin Reed finished seventh, followed by Jesse Glenz, Justin Schmidt, and Bill Rezutek.
The Diamond 40 boated a $23,740 purse for the 34 drivers that were in attendance to help honor the 40-year career of fellow racer, Diamond Jim Letizia. Diamond Jim celebrates 40 years in racing and 40 years in the auto business in 2018.
The Stockbridge Engineering Touring Kings were all in attendance for The Diamond 40. Jared Siefert won, Nick Anvelink was third, Tim Buhler was fourth, Ron Berna was fifth, Chris Engels was sixth, Justin Schmidt was ninth, Jim Schmidt was thirteenth, Troy Springborn finished fifteenth, Jim Letizia finished seventeenth, and Brett Swedberg finished twenty-first.
As is tradition at 141 Speedway, Siefert jumped into the pond in the infield to celebrate his win in The Diamond 40.
The Diamond 40 A-Main - 40 Laps Result
P1: 25 - Jared Siefert
P2: 58 - AJ Diemel
P3: 15 - Nick Anvelink
P4: 7b - Tim Buhler
P5: 66 - Ron Berna
P6: 33e - Chris Engels
P7: 11 - Justin Reed
P8: 7x - Jesse Glenz
P9: 97 - Justin Schmidt
P10: 8r - Bill Rezutek
P11: 10p - Paul Parker
P12: 89 - Brad Mueller
P13: 70 - Jim Schmidt
P14: 98 - Tom Naeyaert
P15: 81 - Troy Springborn
P16: 7 - Joel Bennett
P17: d7 - Jim Letizia
P18: 1 - Dave Fieber
P19: 15s - Taylor Scheffler
P20: 27 - Derek Janke
P21: 3 - Brett Swedberg
P22: d1 - Turk Letizia
P23: 28 - Jimmy Mars
P24: 0r - Mark Rose
B-Main 15-laps Result
P1: 7 - Joel Bennett
P2: 1 - Dave Fieber
P3: 8r - Bill Rezutek
P4: 0r - Mark Rose
P5: 81 - Troy Springborn
P6: 54 - Kevin Baldry
P7: 3 - Brett Swedberg
P8: 33s - Ron Stroika
P9: 13 - David Jaeger
P10: 20 - Joe Reuter
P11: 10s - Dan Schlieper
P12: 5 - Lukas Postl
P13: 16 - Zack Kessler
P14: 87 - Adam Janke
P15: 14 - Victor Benedetto
P16: 99r - Aaron Reivitis
P17: d7 - Jim Letizia
P18: d1 - Turk Letizia
Heat Race #1 sponsored by Pro Power Racing Result
P1: 58 - AJ Diemel
P2: 70 - Jim Schmidt
P3: 28 - Jimmy Mars
P4: d7 - Jim Letizia
P5: 13 - David Jaeger
P6: 54 - Kevin Baldry
P7: 16 - Zack Kessler
Heat Race #2 sponsored by Oak Ridge Foam & Coating Systems Result
P1: 25 - Jared Siefert
P2: 7b - Tim Buhler
P3: 7 - Joel Bennett
P4: 0r - Mark Rose
P5: 81 - Troy Springborn
P6: 20 - Joe Reuter
P7: 87 - Adam Janke
Heat Race #3 sponsored by Londerville Steel Result
P1: 97 - Justin Schmidt
P2: 15s - Taylor Scheffler
P3: 33e - Chris Engels
P4: 1 - Dave Fieber
P5: 8r - Bill Rezutek
P6: 5 - Lukas Postl
P7: 14 - Victor Benedetto
Heat Race #4 sponsored by DiscountShopTowels.com Result
P1: 66 - Ron Berna
P2: 7x - Jesse Glenz
P3: 11 - Justin Reed
P4: 89 - Brad Mueller
P5: 33s - Ron Stroika
P6: 3 - Brett Swedberg
P7: 99r - Aaron Reivitis
Heat Race #5 sponsored by Greater Milwaukee Auto Auction Result
P1: 15 - Nick Anvelink
P2: 27 - Derek Janke
P3: 98 - Tom Naeyaert
P4: 10p - Paul Parker
P5: d1 - Turk Letizia
P6: 10s - Dan Schlieper
Results generated by RacePal
Allstar Performance Hard Charger Award: Bill Rezutek
Amsoil/ Freedom Synthetics: Justin Reed
Behling Racing Products Certificate: Jesse Glenz
Wehrs Machine Certificate: Jared Siefert
Autometer Certificate: Jared Siefert
Wilwood Lucky 13: Jim Schmidt
Real Racing Wheels Hard Luck Award: Brett Swedberg
Keizer Aluminum Wheels Certificate: Troy Springborn
Station 2 Cash: Ron Stroika
Tire Raffle: Chris Engels