Justin Ritchie is King!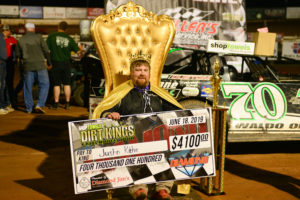 Maribel, WI - Justin Ritchie held off Brett Swedberg and Brad Mueller to win The Diamond 41, the crown jewel of the 2019 DiscountShopTowels.com Dirt Kings Late Model Tour at 141 Speedway. Ritchie made his first visit to the Mueller's Sales and Service Victory Lane being crowned King and sitting in the King's throne. Justin Reed took the early lead in The Diamond 41 presented by Diamond Jim's Motor Cars and led the first fourteen laps until Swedberg charged Reed on the inside.
Swedberg continued to lead until the caution came out on lap 22. On the restart, Swedberg pulled out to a straightaway wide margin over Ritchie, Reed, Mueller and Nick Anvelink. Caution slowed the field with just six laps remaining and Swedberg led the field to the green. Reed regained the lead on the restart going into turn two, followed by Ritchie, Swedberg and Mueller.
Ritchie took the lead with just two laps to go after battling to the inside of Reed. Ritchie also had to survived a green, white, checkered finish to pick up his first DiscountShopTowels.com Dirt Kings Late Model Tour win. Swedberg finished second, followed by Mueller, Troy Springborn, Reed, and Nick Anvelink.
The Diamond 41 Result
P1: 70 - Justin Ritchie
P2: 3 - Brett Swedberg
P3: 89 - Brad Mueller
P4: 81 - Troy Springborn
P5: 11 - Justin Reed
P6: 15 - Nick Anvelink
P7: 74m - Mitch McGrath
P8: 03 - Kyle Raddant
P9: 7b - Tim Buhler
P10: 97 - Justin Schmidt
P11: 33e - Chris Engels
P12: 10p - Paul Parker
P13: 13 - David Jaeger
P14: 9 - Tom Naeyaert
P15: 20 - Joe Reuter
P16: 55 - Joe Bongiorno
P17: 33s - Ron Stroika
P18: 10s - Taylor Scheffler
P19: d7 - Jim Letizia
P20: 15ds - Donny Schatz
P21: 66 - Ron Berna
P22: 27 - Derek Janke
B-Main The Diamond 41 Result
P1: 97 - Justin Schmidt
P2: 7b - Tim Buhler
P3: 20 - Joe Reuter
P4: 66 - Ron Berna
P5: 79 - Jim Schmidt
P6: 8r - Bill Rezutek
P7: 10p - Paul Parker
P8: 33s - Ron Stroika
P9: 28v - Chad Vetting
P10: 57m - Eric Michaels
P11: 45 - Scott Blanke
P12: 16 - Zack Kessler
Heat Race #1 sponsored by Pro Power Racing Result
P1: 70 - Justin Ritchie
P2: 11 - Justin Reed
P3: 10s - Taylor Scheffler
P4: 97 - Justin Schmidt
P5: 15ds - Donny Schatz
P6: 7b - Tim Buhler
P7: 16 - Zack Kessler
P8: 0r - Mark Rose
Heat Race #2 sponsored by Mueller's Sales & Service Result
P1: 89 - Brad Mueller
P2: 03 - Kyle Raddant
P3: 33e - Chris Engels
P4: 55 - Joe Bongiorno
P5: 20 - Joe Reuter
P6: 79 - Jim Schmidt
P7: 10p - Paul Parker
P8: 45 - Scott Blanke
Heat Race #3 sponsored by Londerville Steel Result
P1: 3 - Brett Swedberg
P2: 15 - Nick Anvelink
P3: 27 - Derek Janke
P4: d7 - Jim Letizia
P5: 28v - Chad Vetting
P6: 66 - Ron Berna
P7: 57m - Eric Michaels
Heat Race #4 sponsored by DiscountShopTowels.com Result
P1: 13 - David Jaeger
P2: 9 - Tom Naeyaert
P3: 81 - Troy Springborn
P4: 74m - Mitch McGrath
P5: 8r - Bill Rezutek
P6: 33s - Ron Stroika
P7: d1 - Turk Letizia
Results generated by RacePal
#dirtkings #dirtkingstour #JustinisKing #rollwiththekings #kingsofclay#latemodelracing #racing #dirtracing#latemodels #wisconsinracing
#muellersvictorylane #hobbytownkidsclub #thediamond41 #crownjewel
Schueffner Racing Discount Shop Towels The Diamond 41