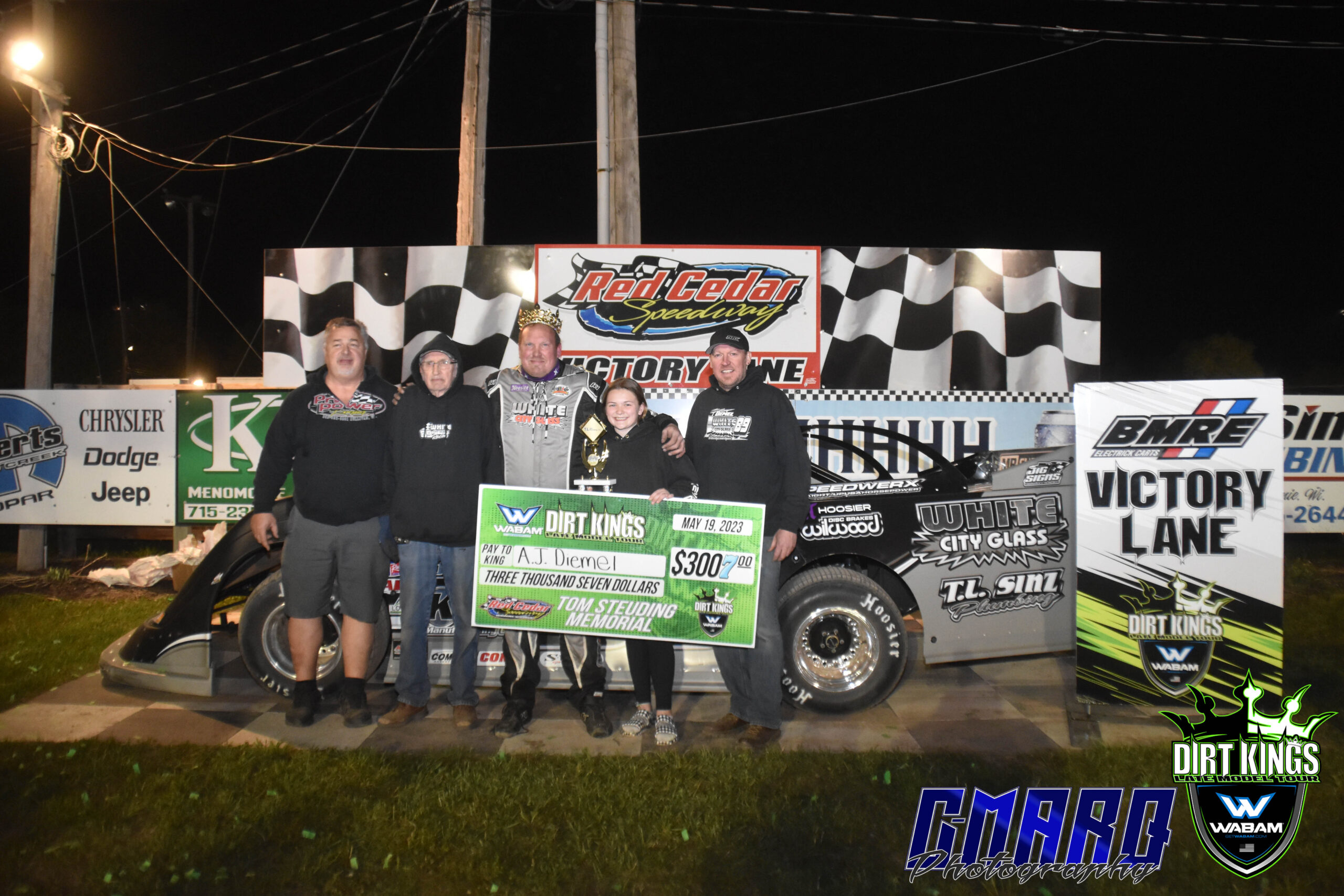 AJ Diemel is King!
Menomonie, WI - AJ Diemel made it two-in-a-row winning the WABAM Dirt Kings Late Model Tour Tom Steuding Memorial at Red Cedar Speedway. Jesse Glenz and Mike Mullen led the field to the green flag, with Glenz taking the lead. Glenz continued to lead, while Diemel worked his way past James Giossi and Greg Nippoldt and set his sights on Mullen. Glenz had started to pull away from Mullen when Diemel made the pass for second spot. Glenz pulled away to a half straightaway lead, before the caution came out.
Glenz held off Diemel on the restart, but Diemel worked his way to the inside, but caution came out again, ending his run on the backstretch. Again on the restart, Glenz maintained the lead and Diemel worked the inside line and they battled for the lead racing side-by-side for several laps, with Diemel prevailing.
Nick Anvelink worked his way to third while Diemel battled Glenz for the lead and quickly moved to the inside of Glenz, moving to second spot. Anvelink continued to close the gap on Diemel and has Diemel approached the tail end of the field, Anvelink was on his bumper.
As Diemel worked through traffic and started to pull away from Anvelink. With just a few laps remaining, Anvelink closed in on Diemel and with traffic ahead, but wasn't able to close the gap and make a move for the lead.
Diemel went on to finish .801 seconds ahead of Anvelink, claiming the Tom Steuding Memorial for the second straight year. Anvelink was second followed by James Giossi, Glenz and Nippoldt.
Tom Steuding Memorial A-Main (30 Laps): 1. 58-AJ Diemel[5]; 2. 15-Nick Anvelink[12]; 3. 11-James Giossi[4]; 4. 7X-Jesse Glenz[1]; 5. 55N-Greg Nippoldt[3]; 6. 99M-Mike Mullen[2]; 7. 7-Joel Bennett[6]; 8. 70-Justin Ritchie[10]; 9. 66-Ron Berna[17]; 10. 21-Todd Frank[8]; 11. 42-Terry Casey[7]; 12. 3-Brett Swedberg[16]; 13. 77Y-Jordan Yaggy[15]; 14. 7C-Jim Carlson[9]; 15. 90-Lance Matthees[13]; 16. 03-Kyle Raddant[21]; 17. 77-Bill Edler[18]; 18. 21F-Gunner Frank[19]; 19. 24-Turk Letizia[14]; 20. 55-Joe Bongiorno[22]; 21. 34-Jordan Langer[20]; 22. 81-Troy Springborn[11]
Stockbridge Engineering B-Main (12 Laps): 1. 66-Ron Berna[1]; 2. 77-Bill Edler[5]; 3. 21F-Gunner Frank[3]; 4. 34-Jordan Langer[8]; 5. 99-Sawyer Specht[9]; 6. 55-Joe Bongiorno[4]; 7. 03-Kyle Raddant[7]; 8. 92-Aaron Wilson[6]; 9. 65-Jake Miller[13]; 10. 14-Robbie Johnson[11]; 11. 21M-Shawn Miller[10]; 12. (DNF) 19J-Justin Green[2]; 13. (DNS) 74-Mitch McGrath; 14. (DNS) 5-Lukas Postl
Klink Equipment Heat 1 (10 Laps): 1. 58-AJ Diemel[1]; 2. 7-Joel Bennett[4]; 3. 81-Troy Springborn[5]; 4. 7C-Jim Carlson[8]; 5. 3-Brett Swedberg[7]; 6. 77-Bill Edler[3]; 7. 99-Sawyer Specht[6]; 8. (DNF) 65-Jake Miller[2]
Ken's Sports Heat 2 (10 Laps): 1. 7X-Jesse Glenz[3]; 2. 15-Nick Anvelink[2]; 3. 90-Lance Matthees[1]; 4. 70-Justin Ritchie[8]; 5. 66-Ron Berna[7]; 6. 92-Aaron Wilson[4]; 7. 21M-Shawn Miller[6]; 8. (DNF) 5-Lukas Postl[5]
Wehrs Machine Heat 3 (10 Laps): 1. 42-Terry Casey[1]; 2. 55N-Greg Nippoldt[7]; 3. 24-Turk Letizia[2]; 4. 19J-Justin Green[4]; 5. 21F-Gunner Frank[5]; 6. 03-Kyle Raddant[6]; 7. (DNF) 74-Mitch McGrath[3]
WABAM Heat 4 (10 Laps): 1. 21-Todd Frank[1]; 2. 99M-Mike Mullen[4]; 3. 11-James Giossi[7]; 4. 77Y-Jordan Yaggy[5]; 5. 55-Joe Bongiorno[3]; 6. 34-Jordan Langer[2]; 7. 14-Robbie Johnson[6]
Follow Dirt Kings Tour on Social Media