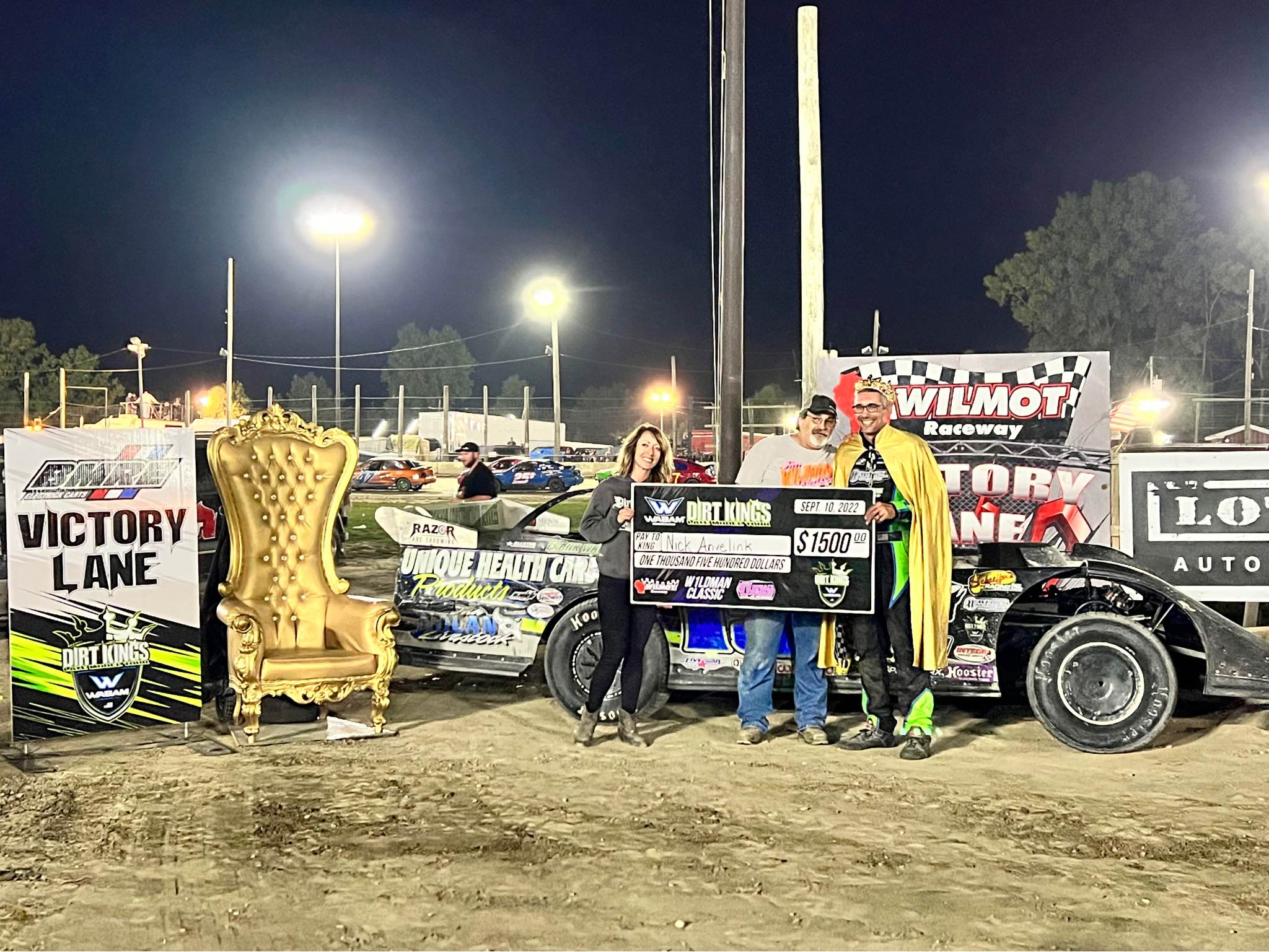 Nick is King!
Wilmot, WI - Nick Anvelink won his second WABAM Dirt Kings Late Model Tour Jim Wildman Watson Classic and was joined in BMRE Electrick Carts Victory Lane at Wilmot Raceway by Jim Watson's daughter, Brittany and brother Mike. In the 5th Annual running of the Jim Wildman Watson Classic, Anvelink started from third position, with Joel Bennett and Justin Ritchie leading the field to the green flag. Bennett took the early lead while Ritchie and Anvelink battled for second. Taylor Scheffler made it three wide as he battled for second spot, splitting Anvelink and Ritchie in the middle of turn one.
Bennett continued to lead and Scheffler challenged for the top spot as they raced side-by-side through turn one and two and down the backstretch and Scheffler pulled ahead into turn three, but caution came out for a car that had spun in turn four on lap four. On the restart, Scheffler again went to the outside of Bennett and pulled ahead as they raced down the backstretch.
Caution slowed the field just a couple laps later for a slowed car in turn four. On the restart, Scheffler continued to pace the field, with Anvelink in second and Ritchie battled Bennett for third. Scheffler was leading at the halfway point and started to approach the tail end of the field.
Scheffler continued to lead with Anvelink and Ritchie closing in with nine laps to go. Anvelink dove to the inside of Scheffler in turn two, taking the lead with just seven laps remaining. Anvelink worked through the tail end of the field and Scheffler closed back in and Anvelink patiently navigated through traffic while Scheffler and Ritchie battled for second. Scheffler and Ritchie raced for second, with Ritchie on the inside and Scheffler on the top side. At the line, Ritchie held the second position and they continued to race for second, but Ritchie and Scheffler tangled in turn three and also collected Sawyer Specht and the race was red flagged. All three drivers were okay, but the cars were unable to continue.
Anvelink led the field back to the green flag, with Brad Mueller and Justin Schmidt in pursuit with just four laps remaining. Anvelink pulled ahead while Mueller and Schmidt battled for position with Ron Berna ascending to third. With just two laps to go, Anvelink held a couple car length lead as Mueller, Berna, Troy Springborn and Schmidt rounded out the top five.
Anvelink finished 1.435 seconds ahead of Mueller, claiming his 21st WABAM Dirt Kings Late Model Tour victory and his fifth of the 2022 season. Berna finished third followed by Springborn, Schmidt and Lukas Postl.
Anvelink becomes the first repeat winner of the Jim Wildman Watson Classic, with his first win in 2019 and again in 2022, while Mitch McGrath won in 2018 and Scheffler won in 2020 and the race was cancelled in 2021 due to the track lights going out during the race.
With just three races remaining this season, the WABAM Dirt Kings Late Model Tour returns to action on Saturday, September 17 at Outagamie Speedway for the Fall Brawl.
5th Annual Wildman Classic (30 Laps): 1. 15-Nick Anvelink[3]; 2. 89-Brad Mueller[5]; 3. 66-Ron Berna[8]; 4. 81-Troy Springborn[14]; 5. 97-Justin Schmidt[12]; 6. 5-Luke Postl[4]; 7. 03-Kyle Raddant[9]; 8. 21-Todd Frank[19]; 9. 9Z-Jayme Zidar[7]; 10. 19J-Justin Green[18]; 11. 7-Joel Bennett[1]; 12. 24-Turk Letizia[13]; 13. 79-Jim Schmidt[16]; 14. 55-Joe Bongiorno[15]; 15. 1ST-Justin Reed[17]; 16. 70-Justin Ritchie[2]; 17. 10S-Taylor Scheffler[6]; 18. 3-Brett Swedberg[10]; 19. 21F-Gunner Frank[11]; 20. 99-Sawyer Specht[22]; 21. 27-Derek Janke[21]; 22. 40-Jack Williams[24]; 23. 12-Don Pataska[23]; 24. 8-Jaden Fryer[20]
Pro Power Racing Heat 1 (10 Laps): 1. 5-Luke Postl[1]; 2. 70-Justin Ritchie[7]; 3. 03-Kyle Raddant[4]; 4. 97-Justin Schmidt[2]; 5. 55-Joe Bongiorno[3]; 6. 81-Troy Springborn[8]; 7. 8-Jaden Fryer[6]; 8. 99-Sawyer Specht[5]
Sunoco Race Fuels Heat 2 (10 Laps): 1. 10S-Taylor Scheffler[4]; 2. 7-Joel Bennett[2]; 3. 15-Nick Anvelink[6]; 4. 24-Turk Letizia[1]; 5. 21F-Gunner Frank[7]; 6. 1ST-Justin Reed[3]; 7. 27-Derek Janke[5]; 8. 12-Don Pataska[8]
Wehrs Machine Heat 3 (10 Laps): 1. 89-Brad Mueller[1]; 2. 9Z-Jayme Zidar[2]; 3. 3-Brett Swedberg[4]; 4. 66-Ron Berna[7]; 5. 79-Jim Schmidt[3]; 6. 19J-Justin Green[5]; 7. 21-Todd Frank[8]; 8. 40-Jack Williams[6]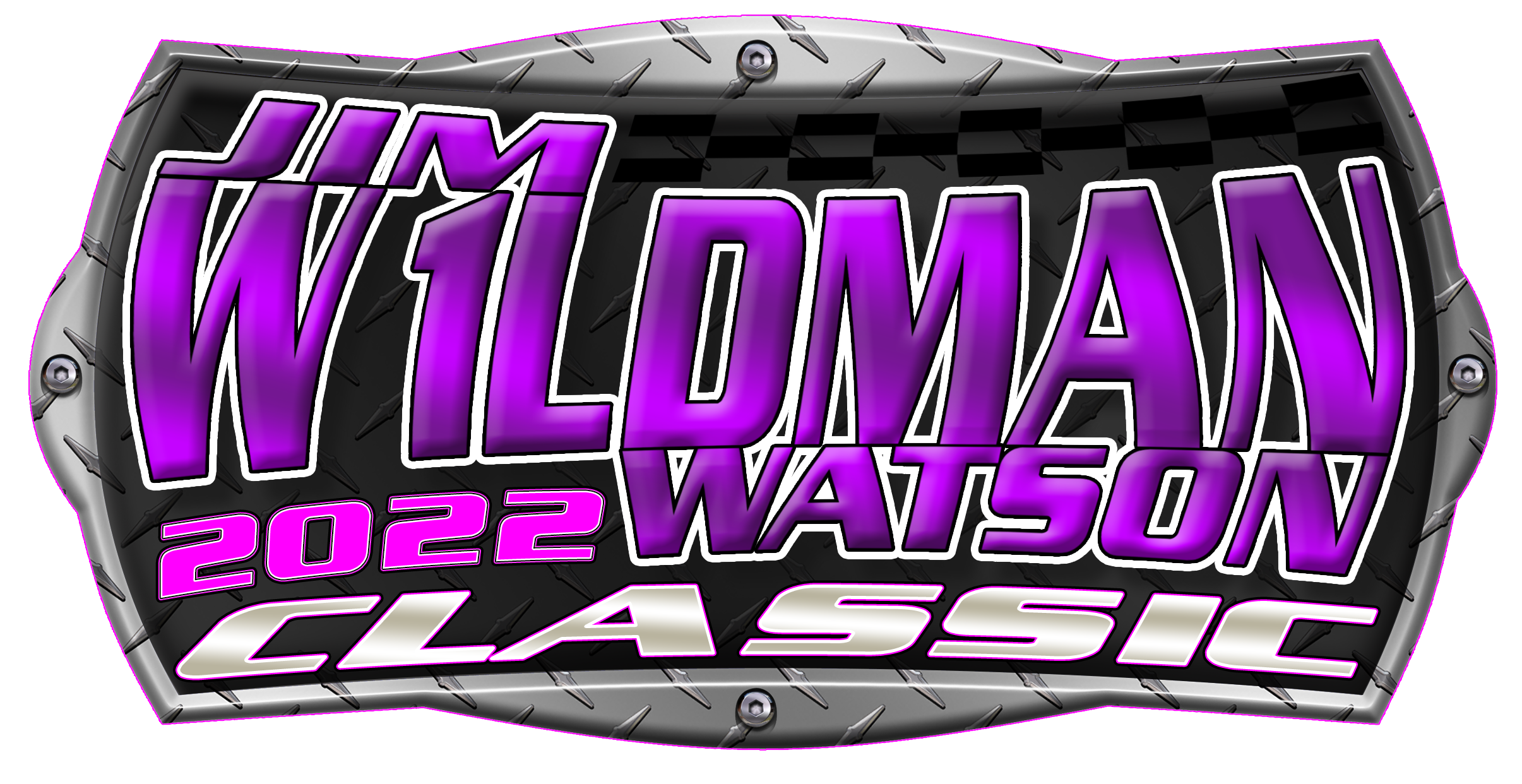 Follow Dirt Kings Tour on Social Media