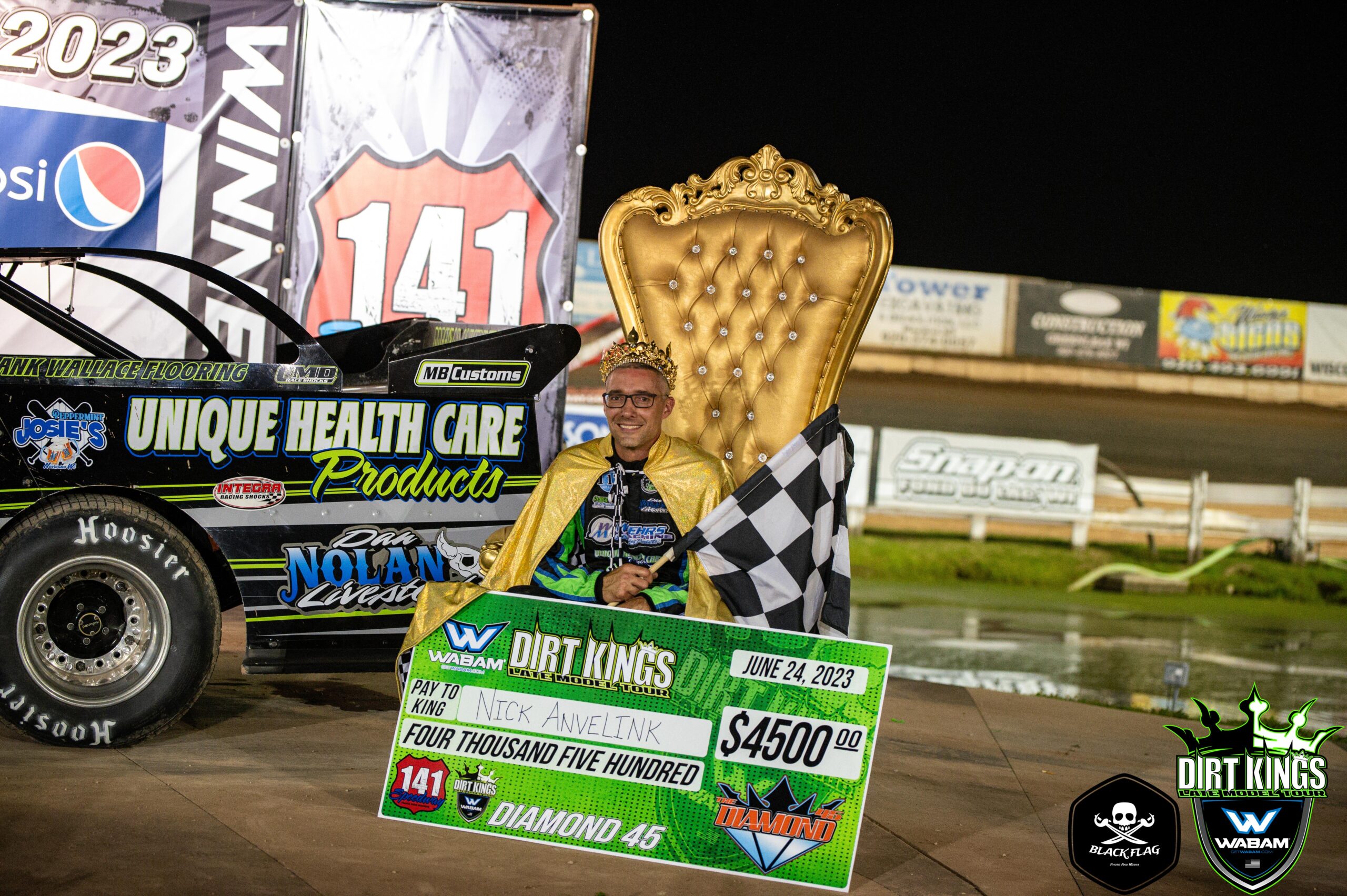 Nick Anvelink Crowned King of The Diamond 45!
Maribel, WI - In front of a full house at 141 Speedway, Jayden Schmidt and Brad Mueller led the field to the green flag of the WABAM Dirt Kings Late Model Tour's crown jewel, The Diamond 45 presented by Diamond Jim's Motorcars. Schmidt took the early lead and Mueller made the pass for lead a couple laps later, working the top side of the track. Schmidt regained the lead on lap five. Caution flew on lap nine, Schmidt maintained his lead with Jesse Glenz, Nick Anvelink and Mueller in pursuit. Schmidt pulled away to a full straightaway lead as Anvelink made the pass for second on lap fourteen. Anvelink started to chase down the leader as Schmidt began to approach the tail end of the field. Anvelink closed the gap to Schmidt and looked to the inside as they raced in turn one on lap fifteen, Anvelink was successful making the pass and took the lead of The Diamond 45. Anvelink started to lap the tail end of the field, with Schmidt, Glenz and Mike Mullen right on his tail. Schmidt tried a move to the top side as they went through turn tour, but there wasn't enough traction to make the pass. Schmidt fell back to fourth behind Glenz and Mullen.
Caution flew one final time as Turk Letizia spun in turn four as the leaders approached. Thankfully, everyone was able to avoid the stopped car. On the restart, it was Anvelink, Glenz, Mullen, Schmidt and Brett Swedberg with just seven laps to go. Anvelink was able to hold off Glenz by 0.425 seconds to be crowned King of The Diamond 45 presented by Diamond Jim's Motorcars in BMRE Electrick Carts Victory Lane.
Mullen finished third, followed by Schmidt and Swedberg. Troy Springborn, Mueller, Lukas Postl, Mitch McGrath and Taylor Scheffler rounded out the top ten.
The Diamond 45 honors the life and legacy of Diamond Jim Letizia, driver of the infamous D7, owner of Diamond Jim's Motorcars and Diamond Jim's Steakhouse. The Diamond was established in 2018 as a celebration of Diamond Jim Letizia for 40 years in racing and in the car business. Jared Siefert was crowned King of The Diamond 40 at 141 Speedway, Justin Ritchie was crowned King of The Diamond 41 at 141 Speedway, Jesse Glenz was crowned King of The Diamond 42 at Plymouth Dirt Track Racing and Taylor Scheffler was crowned King of The Diamond 43 at Wilmot Raceway. The Diamond 44 was rained out in 2022.
The Diamond 45 45 Laps | Diamond Jim's Motorcars
1. 15-Nick Anvelink[7]; 2. 7X-Jesse Glenz[3]; 3. 99M-Mike Mullen[4]; 4. 24S-Jayden Schmidt[1]; 5. 3-Brett Swedberg[11]; 6. 81-Troy Springborn[8]; 7. 89-Brad Mueller[2]; 8. 5-Lukas Postl[13]; 9. 74-Mitch McGrath[10]; 10. 10S-Taylor Scheffler[9]; 11. 97-Justin Schmidt[19]; 12. 9N-Tom Naeyaert[15]; 13. 55C-Chad Mahder[17]; 14. 7-Joel Bennett[18]; 15. 55-Joe Bongiorno[21]; 16. 24-Turk Letizia[22]; 17. 33E-Chris Engels[16]; 18. 03-Kyle Raddant[12]; 19. 54-Kevin Baldry[20]; 20. 25- Jared Siefert[6]; 21. 42-Terry Casey[14]; 22. 66-Ron Berna[5]
Stockbridge Engineering B-Main 12 Laps
1. 55C-Chad Mahder[2]; 2. 7-Joel Bennett[6]; 3. 97-Justin Schmidt[1]; 4. 54-Kevin Baldry[4]; 5. 24-Turk Letizia[3]; 6. 77-Bill Edler[10]; 7. 9Z-Jayme Zidar[5]; 8. 19J-Justin Green[11]; 9. 55-Joe Bongiorno[7]; 10. 21CZ-Cole Czarneski[9]; 11. 99- Sawyer Specht[12]; 12. 8R-Bill Rezutek[8]
Klink Equipment Heat 1
1. 99M-Mike Mullen[1]; 2. 15-Nick Anvelink[3]; 3. 10S-Taylor Scheffler[2]; 4. 5-Lukas Postl[6]; 5. 97-Justin Schmidt[4]; 6. 9Z- Jayme Zidar[7]; 7. 21CZ-Cole Czarneski[5]; 8. 99-Sawyer Specht[8]
Ken's Sports Heat 2
1. 24S-Jayden Schmidt[1]; 2. 66-Ron Berna[3]; 3. 74-Mitch McGrath[2]; 4. 42-Terry Casey[4]; 5. 55C-Chad Mahder[5]; 6. 7- Joel Bennett[6]; 7. 77-Bill Edler[7]
Wehrs Machine Heat 3
1. 89-Brad Mueller[2]; 2. 81-Troy Springborn[3]; 3. 3-Brett Swedberg[1]; 4. 9N-Tom Naeyaert[7]; 5. 24-Turk Letizia[6]; 6. 55- Joe Bongiorno[5]; 7. 19J-Justin Green[4]
WABAM Heat 4
1. 7X-Jesse Glenz[2]; 2. 25-Jared Siefert[3]; 3. 03-Kyle Raddant[1]; 4. 33E-Chris Engels[5]; 5. 54-Kevin Baldry[6]; 6. 8R-Bill Rezutek[4]; 7. (DNS) 70-Justin Ritchie
Klink Equipment Qualifying 1
1. 99M-Mike Mullen, 00:13.739[8]; 2. 10S-Taylor Scheffler, 00:13.860[1]; 3. 15-Nick Anvelink, 00:13.911[5]; 4. 97-Justin Schmidt, 00:13.949[4]; 5. 21CZ-Cole Czarneski, 00:14.070[7]; 6. 5-Lukas Postl, 00:14.106[3]; 7. 9Z-Jayme Zidar, 00:14.168[2]; 8. 99-Sawyer Specht, 00:14.285[6]
Ken's Sports Qualifying 2
1. 24S-Jayden Schmidt, 00:14.178[4]; 2. 74-Mitch McGrath, 00:14.366[5]; 3. 66-Ron Berna, 00:14.378[1]; 4. 42-Terry Casey, 00:14.485[2]; 5. 55C-Chad Mahder, 00:14.485[7]; 6. 7-Joel Bennett, 00:14.548[3]; 7. 77-Bill Edler, 00:14.623[6]
Wehrs Machine Qualifying 3
1. 3-Brett Swedberg, 00:14.149[3]; 2. 89-Brad Mueller, 00:14.320[6]; 3. 81-Troy Springborn, 00:14.331[4]; 4. 19J-Justin Green, 00:14.468[5]; 5. 55-Joe Bongiorno, 00:14.742[2]; 6. 24-Turk Letizia, 00:14.784[1]; 7. 9N-Tom Naeyaert, 00:14.797[7]
WABAM Qualifying 4
1. 03-Kyle Raddant, 00:14.233[4]; 2. 7X-Jesse Glenz, 00:14.303[6]; 3. 25-Jared Siefert, 00:14.595[1]; 4. 8R-Bill Rezutek, 00:14.671[2]; 5. 33E-Chris Engels, 00:15.101[7]; 6. 54-Kevin Baldry, 00:15.275[5]; 7. (DNS) 70-Justin Ritchie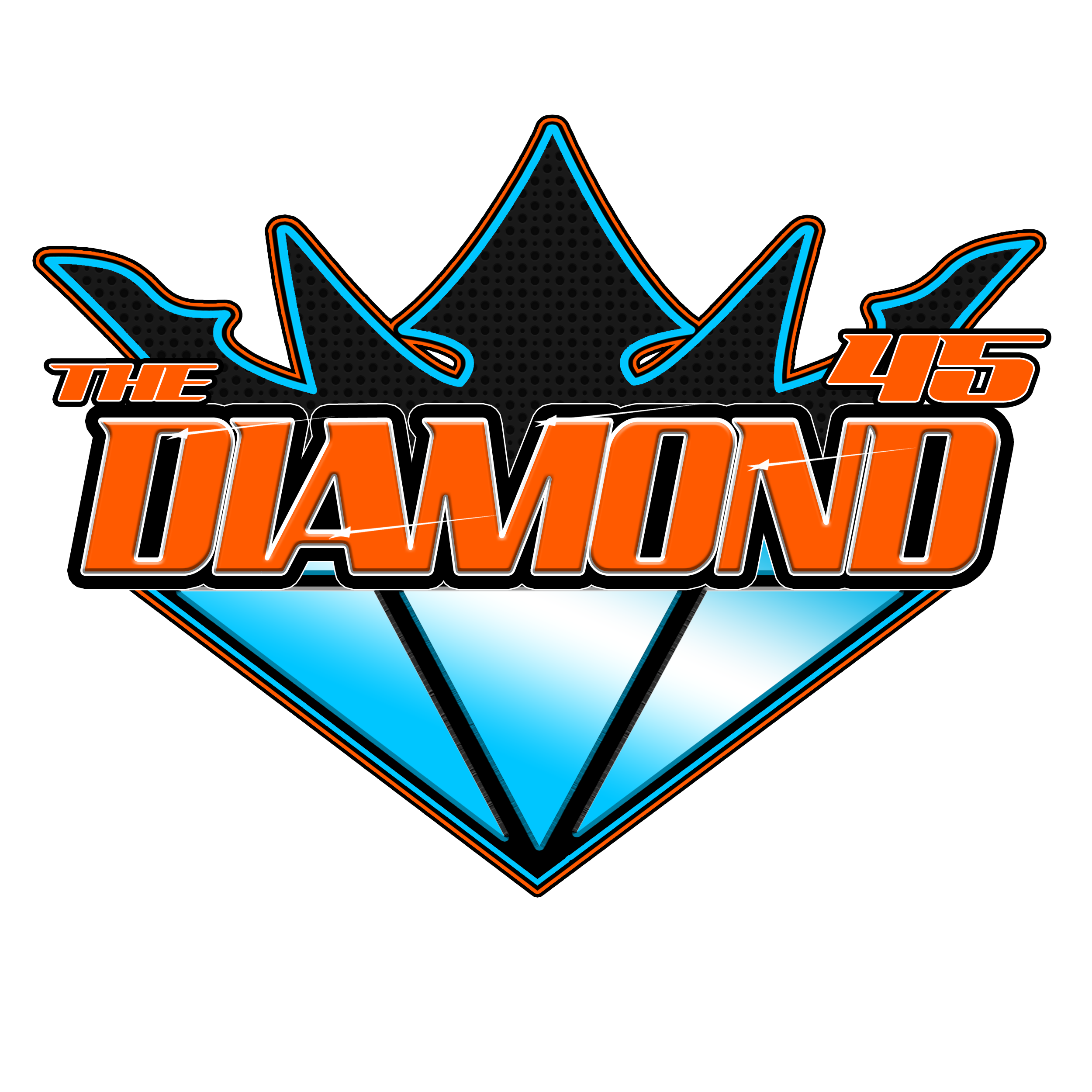 Follow Dirt Kings Tour on Social Media