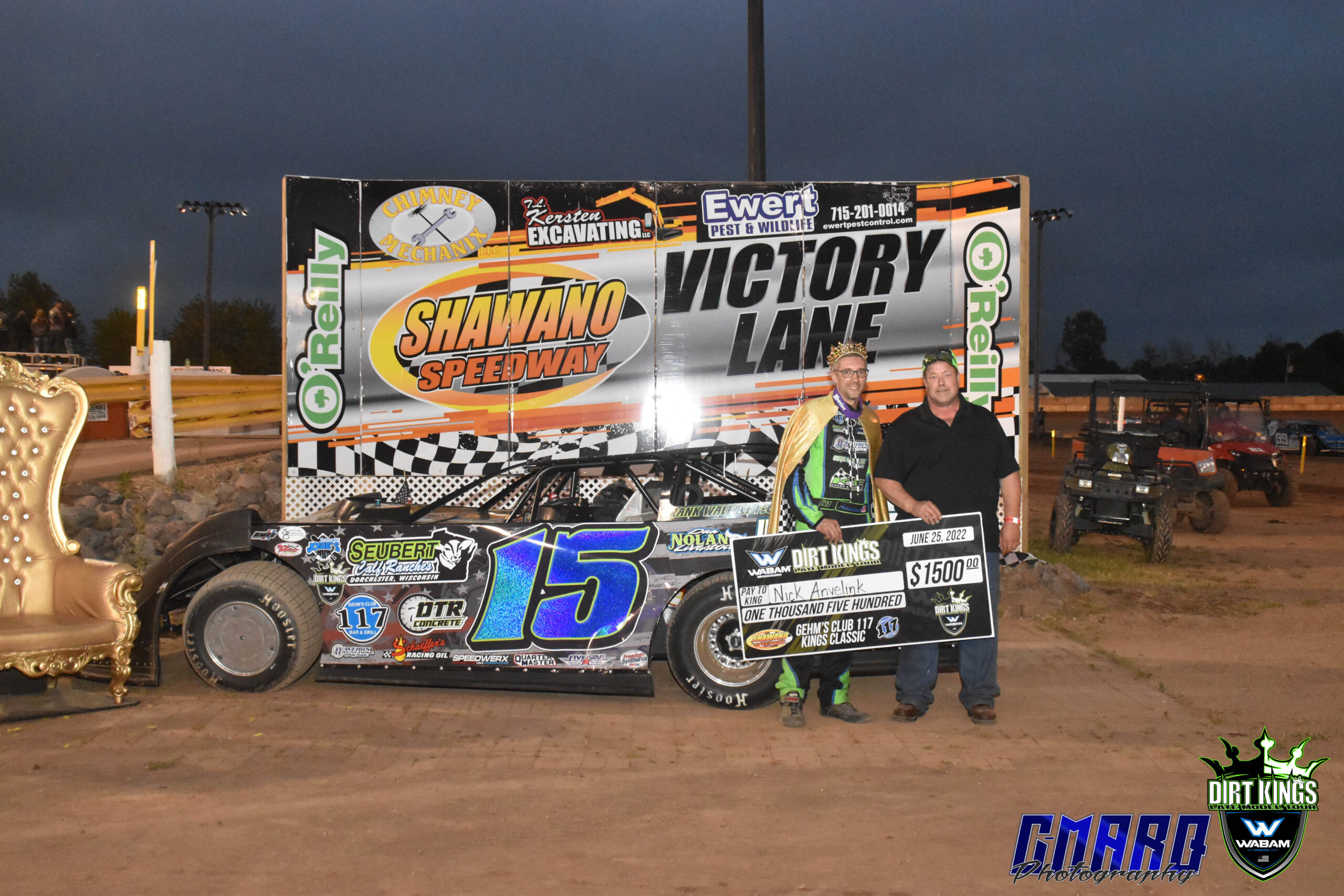 Nick is King!
Shawano, WI - Nick Anvelink caps off the WABAM Dirt Kings Late Model Tour double header weekend by visiting BMRE Electrick Carts Co. Victory Lane for the second time in two races in the Gehm's Club 117 Kings Classic at Shawano Speedway. Anvelink started outside the front row, as Brett Swedberg led the field to the green flag. Swedberg charged to the lead and slowed as he approached turn one with a large puff of smoke. Caution slowed the field and everyone was able to avoid Swedberg, who pulled off on the backstretch.
Anvelink led the field to the green flag and caution slowed the field on the restart as Shawn Miller spun in turn four. The third time was the charm, as Anvelink had the advantage on Kyle Raddant going into turn one. Anvelink continued to pull away from Raddant as Raddant held off challenges from Troy Springborn.
Anvelink held a 5.8 second lead over Raddant, as Raddant slowed in turn four bringing out the caution at the halfway point. The restart allowed Springborn a chance to challenge Anvelink for the lead, but Springborn had to battle with Justin Ritchie for second place, allowing Anvelink to pull away to a half second lead. Anvelink continued to steadily pull away from Springborn and Ritchie.
Anvelink held on to win his eighteenth WABAM Dirt Kings Late Model Tour victory and was crowned King of the Gehm's Club 117 Kings Classic in BMRE Electrick Carts Victory Lane. Springborn finished second, followed by Ritchie, Jim Schmidt, and Lukas Postl.
Gehm's Club 117 Kings Classic (25 Laps): 1. 15-Nick Anvelink[2]; 2. 81-Troy Springborn[5]; 3. 70-Justin Ritchie[6]; 4. 79-Jim Schmidt[4]; 5. 5-Luke Postl[10]; 6. 55-Joe Bongiorno[7]; 7. 7-Joel Bennett[9]; 8. D1-Turk Letizia[8]; 9. 9N-Tom Naeyaert[11]; 10. 25-Paul Thorpe[14]; 11. 03-Kyle Raddant[3]; 12. 21M-Shawn Miller[15]; 13. 27-Derek Janke[13]; 14. 3-Brett Swedberg[1]; 15. 56-Tim Rothe[12]
Pro Power Racing Heat 1 (8 Laps): 1. 70-Justin Ritchie[2]; 2. 15-Nick Anvelink[6]; 3. 81-Troy Springborn[7]; 4. 55-Joe Bongiorno[1]; 5. 7-Joel Bennett[4]; 6. 9N-Tom Naeyaert[3]; 7. 27-Derek Janke[5]; 8. 25-Paul Thorpe[8]
Sunoco Race Fuels Heat 2 (8 Laps): 1. 3-Brett Swedberg[3]; 2. 03-Kyle Raddant[1]; 3. 79-Jim Schmidt[6]; 4. D1-Turk Letizia[2]; 5. 5-Luke Postl[4]; 6. 56-Tim Rothe[5]; 7. (DNS) 21M-Shawn Miller
Follow Dirt Kings Tour on Social Media