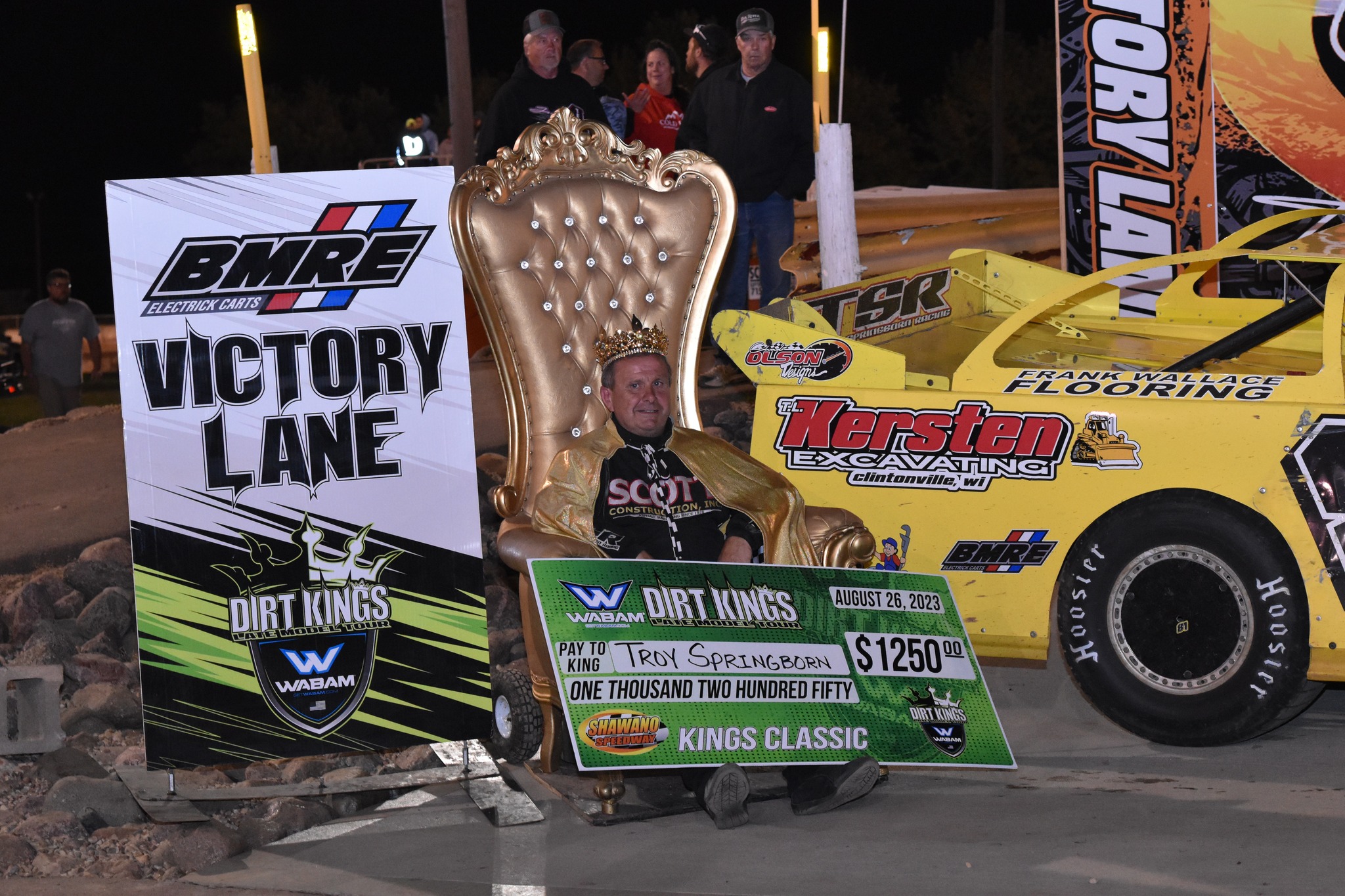 Troy Springborn was crowned King of the Kings Classic at Shawano Speedway in BMRE Electrick Carts Victory Lane.
Troy is King!
Shawano, WI - Troy Springborn was crowned King of the WABAM Dirt Kings Late Model Tour Kings Classic, presented by Galloping Ghost Motorsports & Transportation in BMRE Electrick Carts Victory Lane at Shawano Speedway.  Springborn started the 25-lap Kings Classic from sixth spot, while Jayden Schmidt and Terry Casey led the field to the green flag.  Casey took the lead with Schmidt taking second.  Springborn was on the move early, advancing to the third on lap two.  It was all Casey for most of the race as he extended his lead and pulled away from the field.  Springborn and Schmidt battled for second for many laps, with Springborn passing Schmidt on the backstretch on lap eleven.  At this point, Casey had worked his way around the legendary half mile track and was approaching the tail end of the field, who were all battling for position.  
Casey had a full straightaway lead on Springborn before he started to battle his way through traffic.  Traffic allowed Springborn to close the gap and five laps later, Springborn was right behind Casey and started to challenge him for the lead.  As Casey and Springborn raced through the tail end of the field, Casey still had the advantage.  Springborn continued to pressure Casey on the inside, on the outside as the laps dwindled down.  At one point the two made innocent contact coming out of turn four as they battled for the lead.  Casey still held the point as the white flag flew.  Springborn looked to the inside of Casey as they raced through turn two and Springborn stayed low and on the backstretch and Casey pulled ahead as they raced through turn three and four, with Springborn diving inside Casey as they raced out of turn four.  It was a drag race to the checkered flag, with Springborn finishing 0.045 seconds ahead of Casey.  Andy Karl came home in third, followed by Bill Edler and Brett Swedberg.  
Earlier in the night, Nick Anvelink, Justin Ritchie, Kyle Raddant and Mike Mullen had problems in the heat races.  For Anvelink, Raddant and Mullen it meant lots of repairs to be ready for the Kings Classic, but Ritchie's night was over after the heat race.  Anvelink finished ninth, after starting 20th and was the Allstar Hard Charger.  
Kings Classic 25 Laps | Galloping Ghost Motorsports & Transportation
1. 81-Troy Springborn[6]; 2. 42-Terry Casey[2]; 3. 61K-Andy Karl[3]; 4. 77-Bill Edler[4]; 5. 3-Brett Swedberg[5]; 6. 9N-Tom Naeyaert[8]; 7. 5-Lukas Postl[9]; 8. 7-Joel Bennett[13]; 9. 15-Nick Anvelink[20]; 10. 66-Ron Berna[7]; 11. 95W-Aaron Wickersheim[14]; 12. 03-Kyle Raddant[21]; 13. 19J-Justin Green[10]; 14. 55-Joe Bongiorno[11]; 15. 24-Turk Letizia[17]; 16. 25-Jared Siefert[15]; 17. 33E-Chris Engels[16]; 18. 21M-Shawn Miller[18]; 19. 27-Derek Janke[12]; 20. (DNF) 24S-Jayden Schmidt[1]; 21. (DNF) 56-Jordan Barkholtz[22]; 22. (DNF) 99M-Mike Mullen[19]; 23. (DNS) 70-Justin Ritchie
Klink Equipment Heat 1 8 Laps
1. 81-Troy Springborn[2]; 2. 66-Ron Berna[1]; 3. 61K-Andy Karl[5]; 4. 55-Joe Bongiorno[4]; 5. 7-Joel Bennett[6]; 6. 33E-Chris Engels[3]; 7. 24-Turk Letizia[7]; 8. 21M-Shawn Miller[8]
Ken's Sports Heat 2 8 Laps
1. 77-Bill Edler[1]; 2. 24S-Jayden Schmidt[3]; 3. 9N-Tom Naeyaert[4]; 4. 19J-Justin Green[6]; 5. 95W-Aaron Wickersheim[5]; 6. (DNF) 99M-Mike Mullen[7]; 7. (DNF) 15-Nick Anvelink[2]; 8. (DNF) 56-Jordan Barkholtz[8]
Wehrs Machine Heat 3 8 Laps
1. 3-Brett Swedberg[1]; 2. 42-Terry Casey[6]; 3. 5-Lukas Postl[4]; 4. 27-Derek Janke[3]; 5. 25-Jared Siefert[5]; 6. (DNF) 70-Justin Ritchie[7]; 7. (DNF) 03-Kyle Raddant[2]
Follow Dirt Kings Tour on Social Media