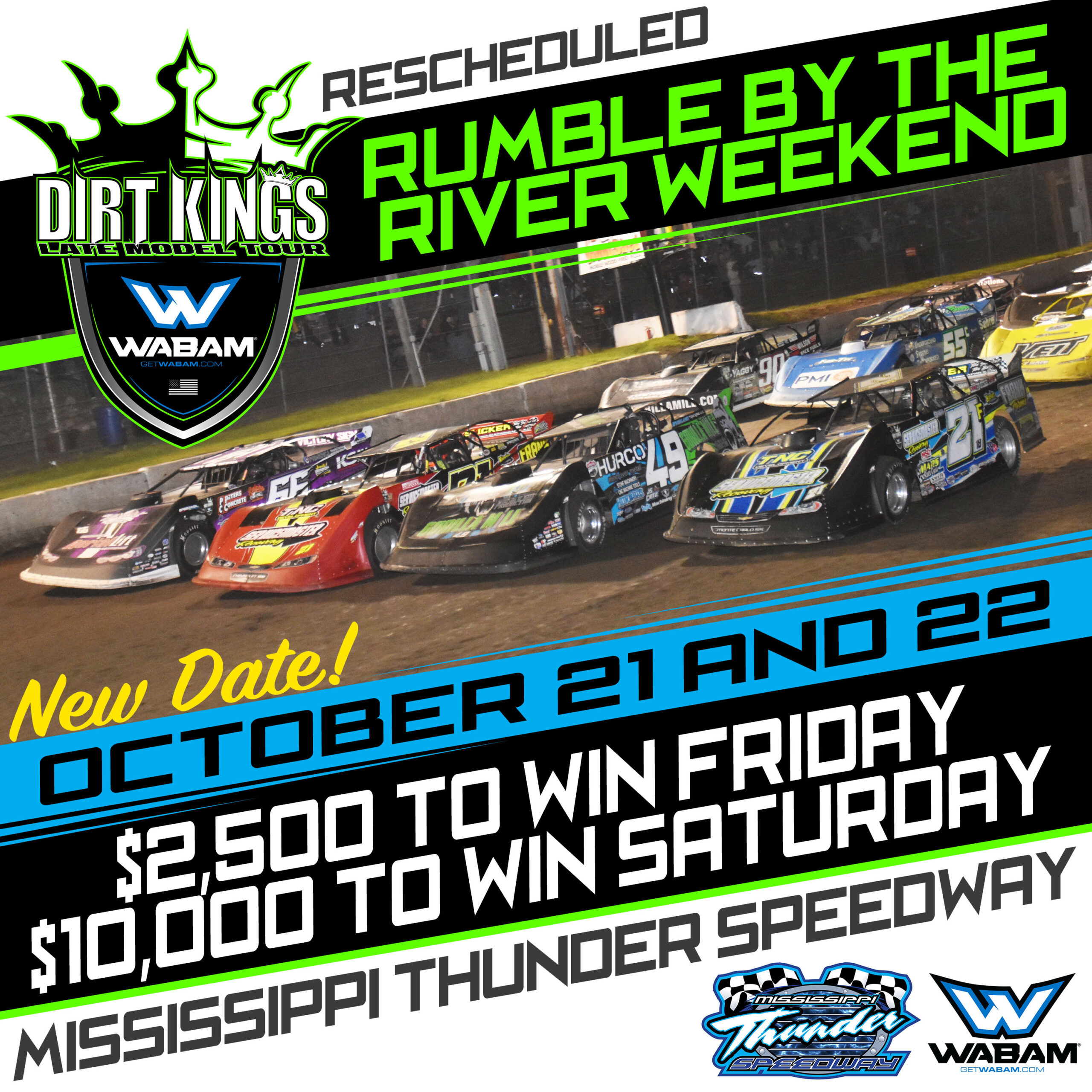 FOR IMMEDIATE RELEASE—
Rumble by the River Rescheduled
Fountain City, WI - Mississippi Thunder Speedway and the WABAM Dirt Kings Late Model Tour are excited to announce October 21-22 as the rescheduled date for the Rumble by the River 40. The event will now be named Rumble by the River Weekend and will feature two big nights of racing. Friday, October 21 will play host to the Ready to Rumble with a $2,500-to-win 30 lap feature. The Rumble by the River Weekend continues on Saturday, October 22 with the $10,000-to-win Rumble by the River 40.
Mississippi Thunder Speedway will host a huge pit party after the races on Friday night with a massive bonfire, music and discounted beer! Mississippi Thunder Speedway has plenty of space for on-site camping and the pit party will be open to both race fans and race teams.
"With the mix of an awesome racing venue and a great party after Friday night's race we are certain the Rumble by the River Weekend is an event that we'll remember for years to come," says Dirt Kings Tour Promoter Jason Shultz.
WABAM is the title sponsor of the Dirt Kings Tour. WABAM is the ultimate cleaner with solutions for your vehicle, house and business. WABAM firmly believes that cleaning doesn't have to be boring and they are working to change that one product at a time. WABAM aims to make cleaning fun with great products with appealing scents. WABAM is proud to be made in the USA and proudly features the American flag on every product. More information about WABAM can be found at www.getwabam.com.
To learn more about the WABAM Dirt Kings Tour, be sure to follow the Dirt Kings Tour on Facebook (/dirtkingstour), on Twitter (@DirtKingsTour), on Instagram (DirtKingsTour) and Snapchat (DirtKingsTour).
Contact:
Sandy Abitz Shultz
[email protected]
(920)450-6024