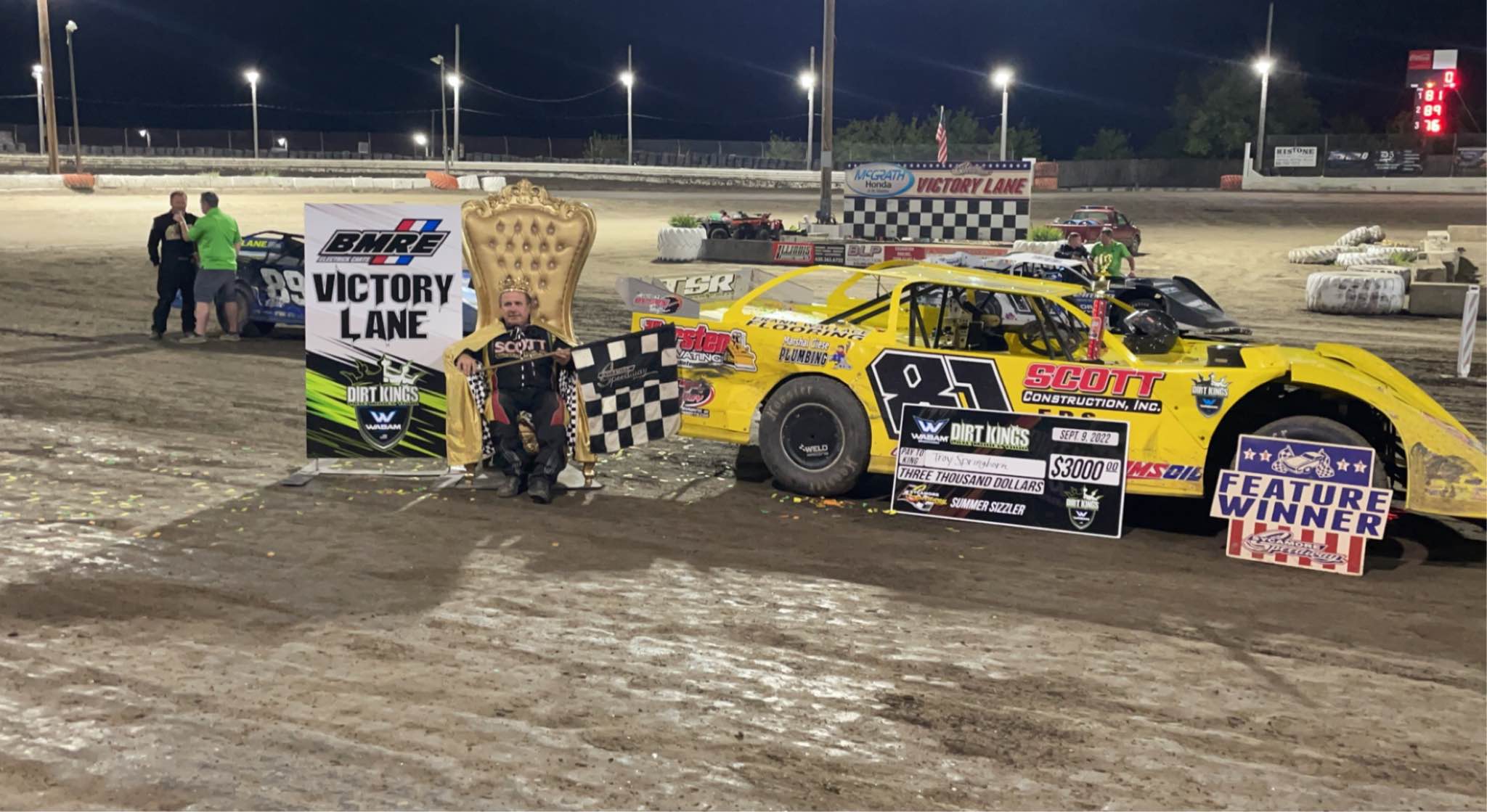 Troy is King!
Sycamore, Illinois - Troy Springborn was crowned King of the WABAM Dirt Kings Late Model Tour Summer Sizzler at Sycamore Speedway, his third visit to BMRE Electrick Carts Co. Victory Lane this season.
Todd Frank and Joel Bennett led the 25-car field to the green flag, with caution coming out on the initial start several times as they tried to navigate turns one and two on a very racy track.
Frank pulled ahead and took the lead while Taylor Scheffler made it three wide on the next lap with Bennett leading lap two. Frank had a problem on the front stretch, bringing out the first official yellow of the night. Bennett led the field back to the green, with Scheffler moving to the inside of Bennett in turn two. Bennett made some contact with the backstretch wall shuffling him back to fourtheenth. Scheffler was then challenged by Springborn, who also took the inside line, passing for the lead with Scheffler, Mike Spatola III, Brett Swedberg and Lukas Postl close behind.
Caution slowed the field for an incident in turn four involving David Webster, Justin Ritchie and Mike Kline. On the restart, Springborn stayed low while Spatola III went high, taking the lead on lap six. Springborn continued to battle for the lead on the inside of Spatola III, with Springborn prevailing again on lap eight. While Springborn continued to lead, Spatola III held of challenges from Scheffler as they battled for second place.
Springborn worked through the tail end of the field and had a full straightaway lead when caution came out with twelve laps to go. Springborn gave up his 3.604 second lead and had to restart twice, as caution came out on the restart in turn one.
Springborn maintained his lead with Spatola III passing Scheffler for second. With five laps to go, Springborn caught the tail of the field and had to navigate through traffic. Springborn finished 2.446 seconds ahead of Spatola III, taking home the $3,000 check and was crowned King in BMRE Electrick Carts Victory Lane. While Titus Snead appeared to cross the line in third position, Snead was docked three positions for jumping the last restart of the night. Nick Anvelink finished third, followed by Scheffler and Postl.
The WABAM Dirt Kings Late Model Tour finishes out the Double Header Weekend at Wilmot Raceway for the 5th Annual Jim Wildman Watson Classic on September 10.
Summer Sizzler (30 Laps): 1. 81-Troy Springborn[4]; 2. 89S-Mike Spatola[5]; 3. 15-Nick Anvelink[19]; 4. 10S-Taylor Scheffler[3]; 5. 5-Luke Postl[12]; 6. 76-Titus Sneed[23]; 7. 3-Brett Swedberg[7]; 8. 03-Kyle Raddant[16]; 9. 70-Justin Ritchie[21]; 10. 7-Joel Bennett[2]; 11. 44W-David Webster[15]; 12. 1ST-Justin Reed[13]; 13. 9Z-Jayme Zidar[20]; 14. 19J-Justin Green[11]; 15. 89-Brad Mueller[6]; 16. 99-Sawyer Specht[10]; 17. 05-Gary Schalmo[17]; 18. 93-Mike Kline[22]; 19. 24-Turk Letizia[9]; 20. 21-Todd Frank[1]; 21. 21F-Gunner Frank[18]; 22. 66-Ron Berna[8]; 23. 55-Joe Bongiorno[14]; 24. 01-Greg Cantrell[24]
Pro Power Racing Heat 1 (10 Laps): 1. 21-Todd Frank[2]; 2. 81-Troy Springborn[6]; 3. 99-Sawyer Specht[1]; 4. 03W-Dan White[5]; 5. 5-Luke Postl[7]; 6. 15-Nick Anvelink[3]; 7. 76-Titus Sneed[4]
Sunoco Race Fuels Heat 2 (10 Laps): 1. 89S-Mike Spatola[2]; 2. 24-Turk Letizia[1]; 3. 01-Greg Cantrell[4]; 4. 1ST-Justin Reed[3]; 5. 03-Kyle Raddant[6]; 6. 9Z-Jayme Zidar[5]
Wehrs Machine Heat 3 (10 Laps): 1. 10S-Taylor Scheffler[1]; 2. 89-Brad Mueller[5]; 3. 19J-Justin Green[2]; 4. 55-Joe Bongiorno[3]; 5. 05-Gary Schalmo[6]; 6. 70-Justin Ritchie[4]
WABAM Heat 4 (10 Laps): 1. 7-Joel Bennett[2]; 2. 3-Brett Swedberg[3]; 3. 66-Ron Berna[5]; 4. 44W-David Webster[1]; 5. 21F-Gunner Frank[6]; 6. 93-Mike Kline[4]
Follow Dirt Kings Tour on Social Media