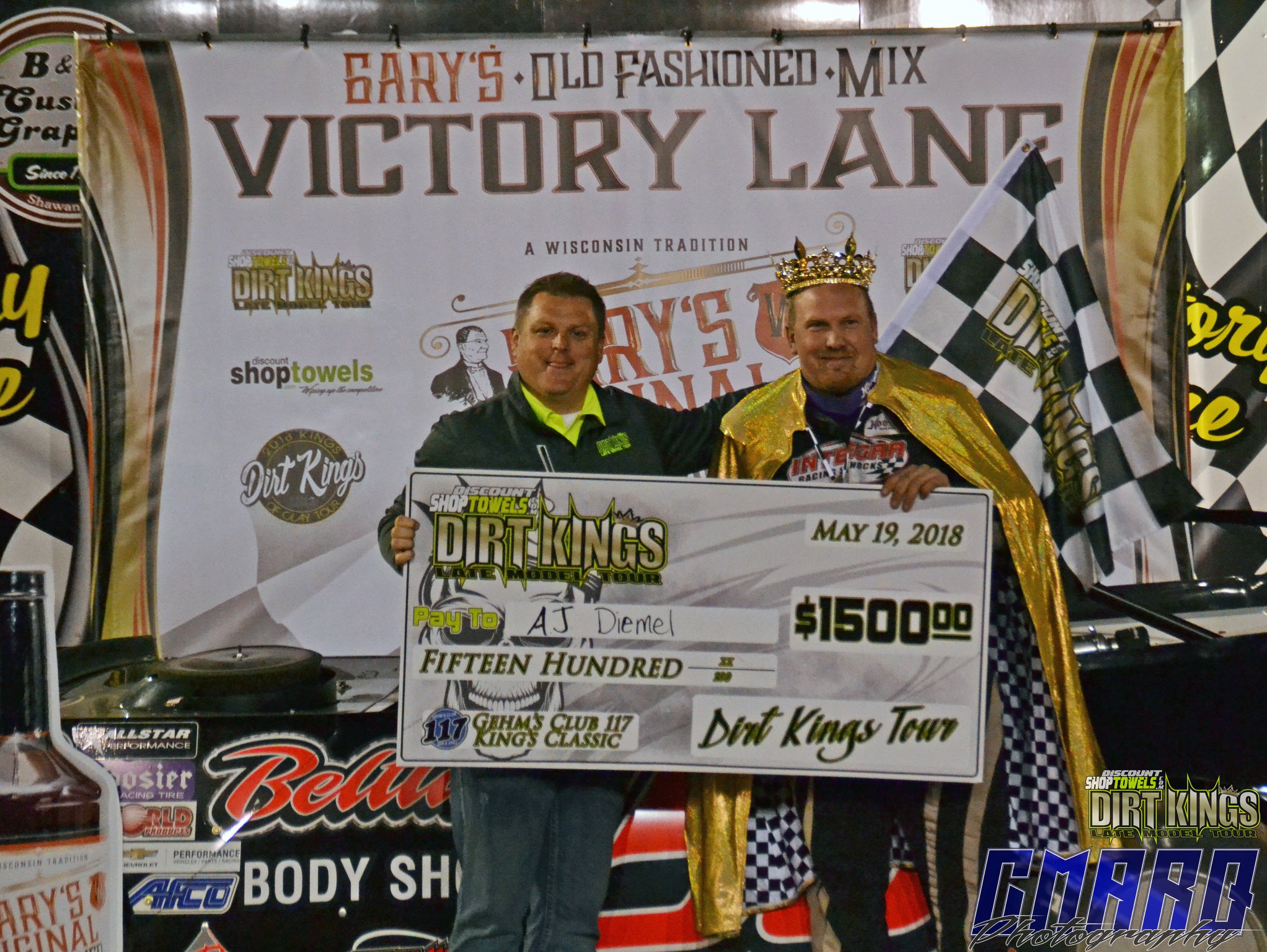 AJ Diemel was crowned King of the DiscountShopTowels.com Dirt Kings Late Model Tour Gehm's Club 117 Kings Classic on Saturday, May 19, 2018.  Diemel is joined in the Gary's Old Fashioned Mix Victory Lane with Dirt Kings Tour Promoter Jason Shultz.
AJ is KING!
AJ Diemel wins the Gehm's Club 117 Kings Classic at Shawano Speedway, the opening event for the 2018 DiscountShopTowels.comDirt Kings Late Model Tour.
Ron Berna and Troy Springborn led the field to the green flag, right as Berna's engine expired, causing him to skid into the infield, bringing out the yellow flag. On the restart, Springborn took the early lead, with Justin Schmidt in second. Schmidt raced side by side with Springborn, taking the lead as he worked the outside of the track, on lap 3. While Schmidt started to pull away from the field, Brett Swedberg challenged Springborn for second. Swedberg closed the gap on Schmidt, challenging for the lead on lap 11, but Schmidt held on. Working the high side, Swedberg passed Schmidt to take the lead on lap 12, with Diemel, Springborn and Nick Anvelink following. Diemel moved around Schmidt and set his sights on Swedberg with 11 laps to go. Diemel didn't get the chance to battle with Swedberg for the lead, as Swedberg's car drifted up over the cushion and into the wall in turn two, bringing out the second and final caution flag on lap 18. Diemel inherited the lead with the yellow and on the restart got out to a big lead followed by Anvelink, Springborn, Schmidt and Tom Naeyaert. Diemel would go on to win his first DiscountShopTowels.com Dirt Kings Late Model Tour race and be the first driver to visit the Gary's Old Fashioned Mix Victory Lane.
Anvelink finished second, followed by Schmidt, Springborn, and Naeyaert.
The Stockbridge Engineering Touring Kings started the season with a second place finish by Anvelink, third place finish by Schmidt, fourth place finish by Springborn, Jim Schmidt finished sixth, Chris Engels finished ninth, Tim Buhler finished 11th, Jim Letizia finished 12th, Swedberg finished 18th, and Berna finished 20th.
Gehm's Club 117 Kings Classic - 25 laps Result
P1: 58 - AJ Diemel
P2: 15 - Nick Anvelink
P3: 97 - Justin Schmidt
P4: 81 - Troy Springborn
P5: 98 - Tom Naeyaert
P6: 70 - Jim Schmidt
P7: 15s - Rick Scheffler
P8: 20 - Joe Reuter
P9: 33e - Chris Engels
P10: 7 - Joel Bennett
P11: 7b - Tim Buhler
P12: d1 - Turk Letizia
P13: 27j - Derek Janke
P14: 10s - Taylor Scheffler
P15: d7 - Jim Letizia
P16: 13 - David Jaeger
P17: 33s - Ron Stroika
P18: 3 - Brett Swedberg
P19: 95w - Aaron Wickersheim
P20: 66 - Ron Berna
Lineup generated by RacePal
Gehm's Club 117 12-Lap B-Main Result
P1: 15s - Rick Scheffler
P2: 7b - Tim Buhler
P3: 13 - David Jaeger
P4: 33s - Ron Stroika
P5: 75 - Jeremy Kazynski
P6: 54 - Kevin Baldry
P7: 87 - Adam Janke
P8: 16 - Zack Kessler
P9: 55 - Joe Bongiorno
P10: 56 - Chris Pepin
Lineup generated by RacePal
Allstar Performance Hard Charger Award: Rick Scheffler
Amsoil/ Freedom Synthetics: Rick Scheffler
Behling Racing Products Certificate: Joe Reuter
Wehrs Machine Certificate: AJ Diemel
Autometer Certificate: AJ Diemel
Wilwood Lucky 13: Derek Janke
Real Racing Wheels Hard Luck Award: Ron Berna
Keizer Aluminum Wheels Certificate: Tom Naeyaert
Heat Race #1 sponsored by Pro Power Racing Result
P1: 98 - Tom Naeyaert
P2: 3 - Brett Swedberg
P3: 15 - Nick Anvelink
P4: 70 - Jim Schmidt
P5: 15s - Rick Scheffler
P6: 54 - Kevin Baldry
P7: 5 - Lukas Postl
Heat Race #2 sponsored by Oak Ridge Foam & Coating Systems Result
P1: 58 - AJ Diemel
P2: 20 - Joe Reuter
P3: 95w - Aaron Wickersheim
P4: 33e - Chris Engels
P5: 7b - Tim Buhler
P6: 99r - Aaron Reivitis
P7: 56 - Chris Pepin
Heat Race #3 sponsored by Londerville Steel Result
P1: 10s - Taylor Scheffler
P2: 97 - Justin Schmidt
P3: 7 - Joel Bennett
P4: 13 - David Jaeger
P5: 55 - Joe Bongiorno
P6: 33s - Ron Stroika
P7: 16 - Zack Kessler
Heat Race #4 sponsored by DiscountShopTowels.com Result
P1: 81 - Troy Springborn
P2: 66 - Ron Berna
P3: d1 - Turk Letizia
P4: d7 - Jim Letizia
P5: 27j - Derek Janke
P6: 75 - Jeremy Kazynski
P7: 87 - Adam Janke
P8: 11 - Justin Reed