Race 12 - September 28th
The stars of the DiscountShopTowels.com Dirt Kings Late Model Tour will rock the 141 Speedway Fall Classic! Don't miss a lap of the action!
Pit Gates open at 2:00
Hot Laps 5:30
Racing 6:00
Pit Passes $30
Grandstands $10
Students & Seniors $7
Who will be King?
Wilmot Raceway, Round 10
Saturday, September 16, 2017
Brad Jj Mueller wins Round 10 of the DiscountShopTowels.com Dirt Kings Late Model Tour at Wilmot Raceway. Mueller started the 30-lap A-Main outside row one and raced side by side with Tim Buhler, taking the lead coming out of turn two on lap two. A caution slowed the field as Brett Swedberg and Buhler battled for second and Troy Springborn in fourth. Mueller had a close call at the halfway point as he tangled with Victor Benedetto but was able to hold on. Caution slowed ...the field before the lap could be completed and on the restart Swedberg, Mitch McGrath, Jim Letizia, Taylor Scheffler and Chris Carlson got together in turn one, bringing out the red flag.
Mueller had a sizable lead after the restart, but caution slowed the race again with six to go. Buhler, Springborn and Hirt battled for second on the restart. Buhler held on to finish second, followed by Justin Schmidt, Hirt and Springborn.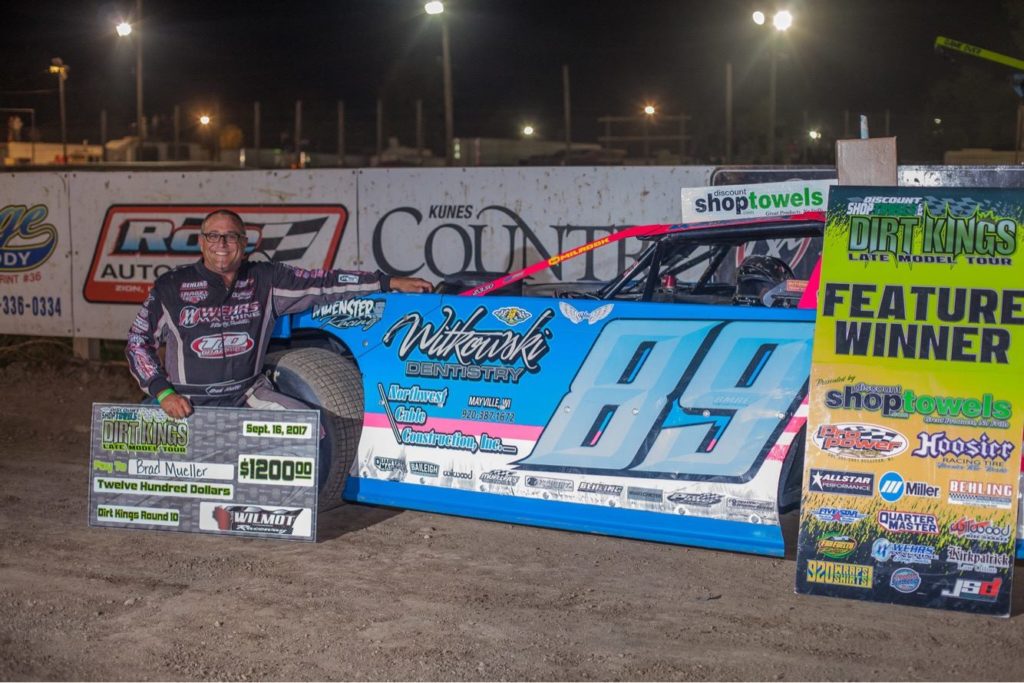 Keep up to date with Dirt Kings Tour headlines, pictures and events on Facebook.
We'll tweet important announcements as event details!
add username: dirtkingstour on snapchat for race day snaps and updates!
Contact us
Have a question?  We'd love to hear from you!
Email us at dirtkingstour@gmail.com