Taylor is King!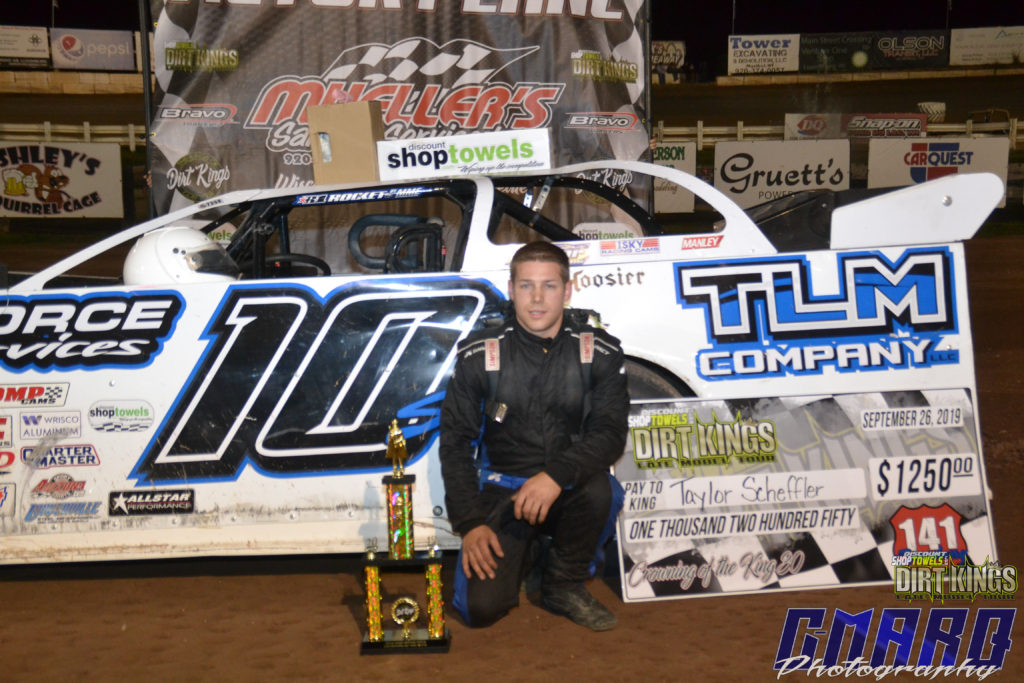 Maribel, WI - Taylor Scheffler used the outside line to pass Troy Springborn for the lead on lap seven as the two battled through turns one and two with Scheffler completing the pass on the backstretch. Scheffler led the rest of the Crowning of the King at 141 Speedway and won his first DiscountShopTowels.com Dirt Kings Late Model Tour race. Scheffler started the race outside of row four as Springborn and Kyle Raddant led the field to the green flag.
Caution slowed the field on lap three, giving Raddant an opportunity to challenge Springborn for the lead on the restart. Raddant's charge allowed Scheffler to advance to second. On the next lap, Scheffler took the lead. Caution slowed the field one lap later, but Scheffler held the outside line on the restart, keeping the lead. Scheffler raced through the tail of the field for the remainder of the race and just twelve cars finished on the lead lap without another yellow flag to slow the event.
After the race, Scheffler was crowned King in the Mueller's Sales and Service Victory Lane. Mark Rose finished second, followed by Justin Schmidt, Mitch McGrath and Justin Ritchie.
With an eighth place finish in the Crowning of the King, Nick Anvelink was crowned the 2019 DiscountShopTowels.com Dirt Kings Late Model Tour Champion. Anvelink has won the championship in three consecutive years. In addition to three championships, Anvelink also leads the way in wins, top five finishes, and top ten finishes in the DiscountShopTowels.com Dirt Kings Late Model Tour.
Crowning of the King Result
P1: 10s - Taylor Scheffler
P2: 0r - Mark Rose
P3: 97 - Justin Schmidt
P4: 74m - Mitch McGrath
P5: 70 - Justin Ritchie
P6: 03 - Kyle Raddant
P7: 33e - Chris Engels
P8: 15 - Nick Anvelink
P9: 66 - Ron Berna
P10: 89 - Brad Mueller
P11: 3 - Brett Swedberg
P12: 81 - Troy Springborn
P13: 27 - Derek Janke
P14: 9 - Tom Naeyaert
P15: 79 - Jim Schmidt
P16: 7 - Joel Bennett
P17: 55 - Joe Bongiorno
P18: 14 - Victor Benedetto
P19: d7 - Jim Letizia
P20: 95w - Aaron Wickersheim
P21: 39 - Cody Welch
P22: d1 - Turk Letizia
P23: 33s - Ron Stroika
P24: 44w - David Webster

Keep up to date with Dirt Kings Tour headlines, pictures and events on Facebook.
We'll tweet important announcements as event details!
add username: dirtkingstour on snapchat for race day snaps and updates!
Contact us
Have a question?  We'd love to hear from you!
Email us at dirtkingstour@gmail.com