Jake Timm is King!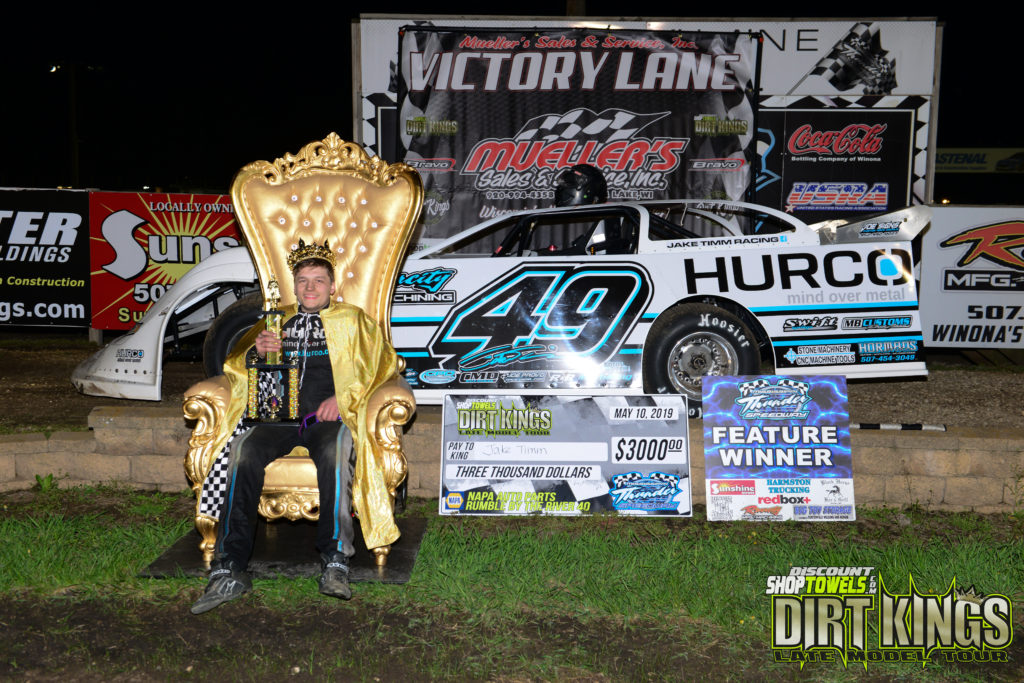 Fountain City, WI - Jake Timm made his first ever super late model start in the DiscountShopTowels.com Dirt Kings Late Model Tour Rumble by the River 40 presented by NAPA at Mississippi Thunder Speedway and when it was over, Timm celebrated his first late model win in Mueller's Sales & Service Victory Lane.   Timm started on the pole, after the redraw where he picked the lowest number.  Timm led all 40 laps enroute to his first late model win, earning a $150 bonus sponsored by Kirkpatrick Law Office in addition to the $3000 payday.
23 drivers took the green flag in the Rumble by the River 40, with caution slowing the field just once on lap 23 when Don Shaw's car slowed coming off turn four.  While Timm worked with lapped traffic most of the race, Stockbridge Engineering Touring King Brett Swedberg was in pursuit.  Swedberg made several attempts to pass Timm, but was not able to overtake Timm for the lead.  
On the restart, Timm pulled away from Lance Mathees, Swedberg and Jimmy Mars. Mars advanced to the second position on the next lap, but was never able to mount a charge for the lead. Timm crossed the finish line 2.296 seconds ahead of Mars, followed by Mathees, Swedberg, and defending two-time Dirt Kings Late Model Tour Champion, Nick Anvelink.
Stockbridge Engineering Touring King Justin Ritchie received the $100 bonus from Kirkpatrick Law Office, as the highest finishing Sunoco Race Fuels Rookie of the Year contender.
Rumble by the River 40 Official Result
P1: 49 - Jake Timm
P2: 28 - Jimmy Mars
P3: 90 - Lance Matthees
P4: 3 - Brett Swedberg
P5: 15 - Nick Anvelink
P6: 7x - Jesse Glenz
P7: 10s - Taylor Scheffler
P8: 85 - John Kaanta
P9: 11 - Pat Doar
P10: 58 - AJ Diemel
P11: 33e - Chris Engels
P12: 11 - James Giossi
P13: 11 - Justin Reed
P14: 66 - Ron Berna
P15: 70 - Justin Ritchie
P16: 97 - Justin Schmidt
P17: 81 - Troy Springborn
P18: 1 - Lance Hofer
P19: d1 - Turk Letizia
P20: 42s - Don Shaw
P21: 10p - Paul Parker
P22: 25 - Jared Siefert
P23: 0r - Mark Rose

Keep up to date with Dirt Kings Tour headlines, pictures and events on Facebook.
We'll tweet important announcements as event details!
add username: dirtkingstour on snapchat for race day snaps and updates!
Contact us
Have a question?  We'd love to hear from you!
Email us at dirtkingstour@gmail.com