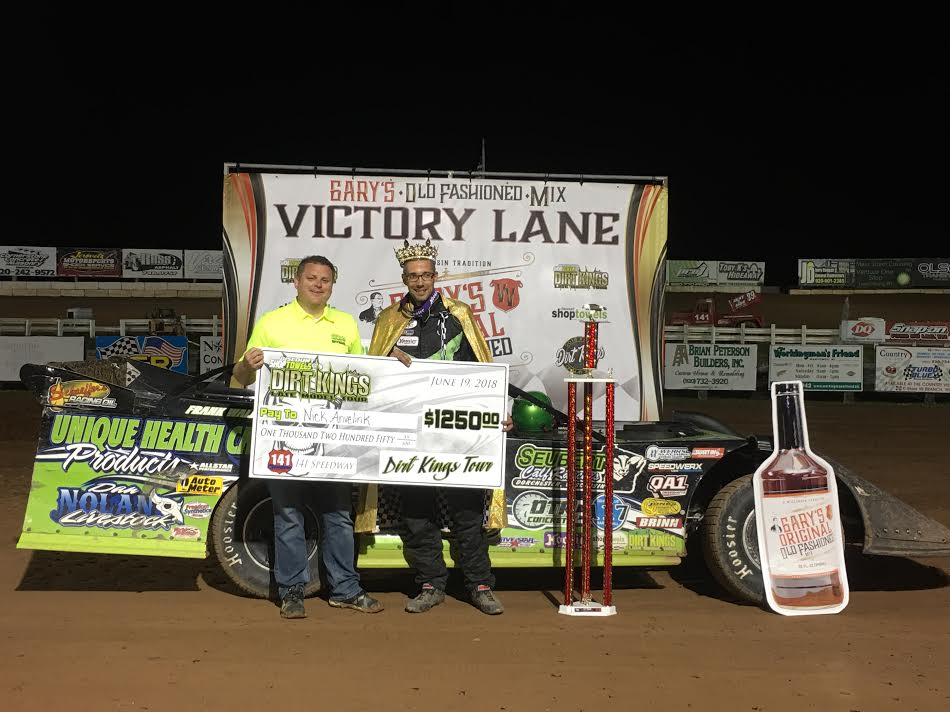 Nick is KING!
Anvelink wins from deep in the field in the Clash to be King!
Nick Anvelink started the 30-lap Clash to be King from inside row 5 and if it wasn't for the caution on lap 7, he may not have found his way to the front. Turk Letizia and Jared Siefert led the field to the green flag with Letizia leading the first lap and Siefert trying to work the outside. Siefert took the lead from Letizia and had begun to pull away from the field when the caution flew on lap 7. On the restart, Siefert held onto the lead, but Anvelink, who had restarted in the third position worked his way past Paul Parker and set his sights on Siefert. Siefert worked the high side of the track but could not hold off Anvelink. Anvelink took the lead just before halfway and never looked back enroute to his third straight win of the season.
Brett Swedberg finished second, followed by Ron Berna, Siefert, Mark Rose and Turk Leitiza as the only other cars on the lead lap. Justin Schmidt finished seventh, followed by Tim Buhler, Brad Mueller and Dave Fieber.
The Stockbridge Engineering Touring Kings were all in attendance for the Clash to be King. Anvelink was King, Swedberg was second, Berna was third, Siefert was fourth, Justin Schmidt was seventh, Buhler was eighth, Jim Schmidt finished eleventh, Troy Springborn was twelfth, and Jim Letizia was eighteenth.
The DiscountShopTowels.com Dirt Kings Late Model Tour returns to 141 Speedway on Friday, June 29, for the crown jewel of the 2018 season, The Diamond 40.
Clash to be King A-Main - 30 Laps Result
P1: 15 - Nick Anvelink
P2: 3 - Brett Swedberg
P3: 66 - Ron Berna
P4: 25 - Jared Siefert
P5: 0r - Mark Rose
P6: d1 - Turk Letizia
P7: 97 - Justin Schmidt
P8: 7b - Tim Buhler
P9: 89 - Brad Mueller
P10: 1 - Dave Fieber
P11: 70 - Jim Schmidt
P12: 81 - Troy Springborn
P13: 33e - Chris Engels
P14: 20 - Joe Reuter
P15: 33s - Ron Stroika
P16: 10p - Paul Parker
P17: 27 - Derek Janke
P18: d7 - Jim Letizia
P19: 54 - Kevin Baldry
P20: 98 - Tom Naeyaert
Results generated by RacePal

Keep up to date with Dirt Kings Tour headlines, pictures and events on Facebook.
We'll tweet important announcements as event details!
add username: dirtkingstour on snapchat for race day snaps and updates!
Contact us
Have a question?  We'd love to hear from you!
Email us at dirtkingstour@gmail.com