Taylor is King!
Wilmot, WI - Taylor Scheffler was crowned King of the 3rd Annual Jim Wildman Watson Classic in Mueller's Sales & Service Victory Lane at Wilmot Raceway. Scheffler won his heat race and redrew the pole position for the 30-lap A-Main, which was rain shortened to 15 laps. Scheffler led all fifteen laps, holding off Justin Schmidt and Justin Ritchie for his second
DiscountShopTowels.com
Dirt Kings Late Model Tour win. Schmidt finished second followed by Ritchie, Turk Letizia and Troy Springborn.Finishing ahead of Ron Berna, Ritchie secured the 2020 Discount Shop Towels Dirt Kings Late Model Tour Championship. GoSunoco Racing Rookie of the Year contenders Gunner Frank and Lukas Postl finished thirteenth and sixteenth respectively, with Frank taking the 2020 Sunoco Race Fuels Rookie of the Year Title.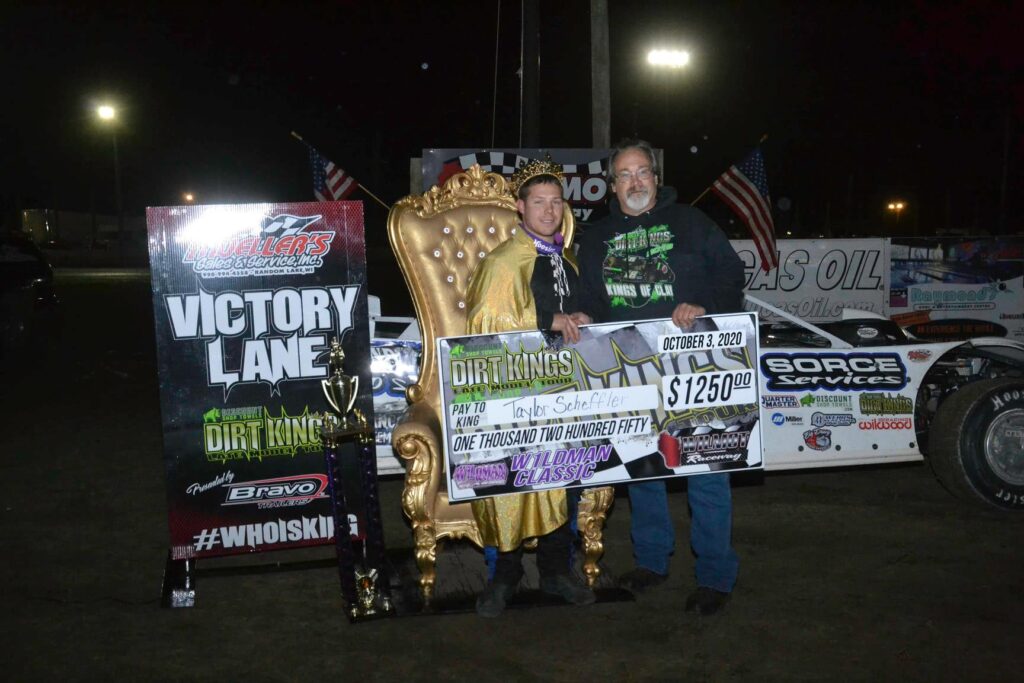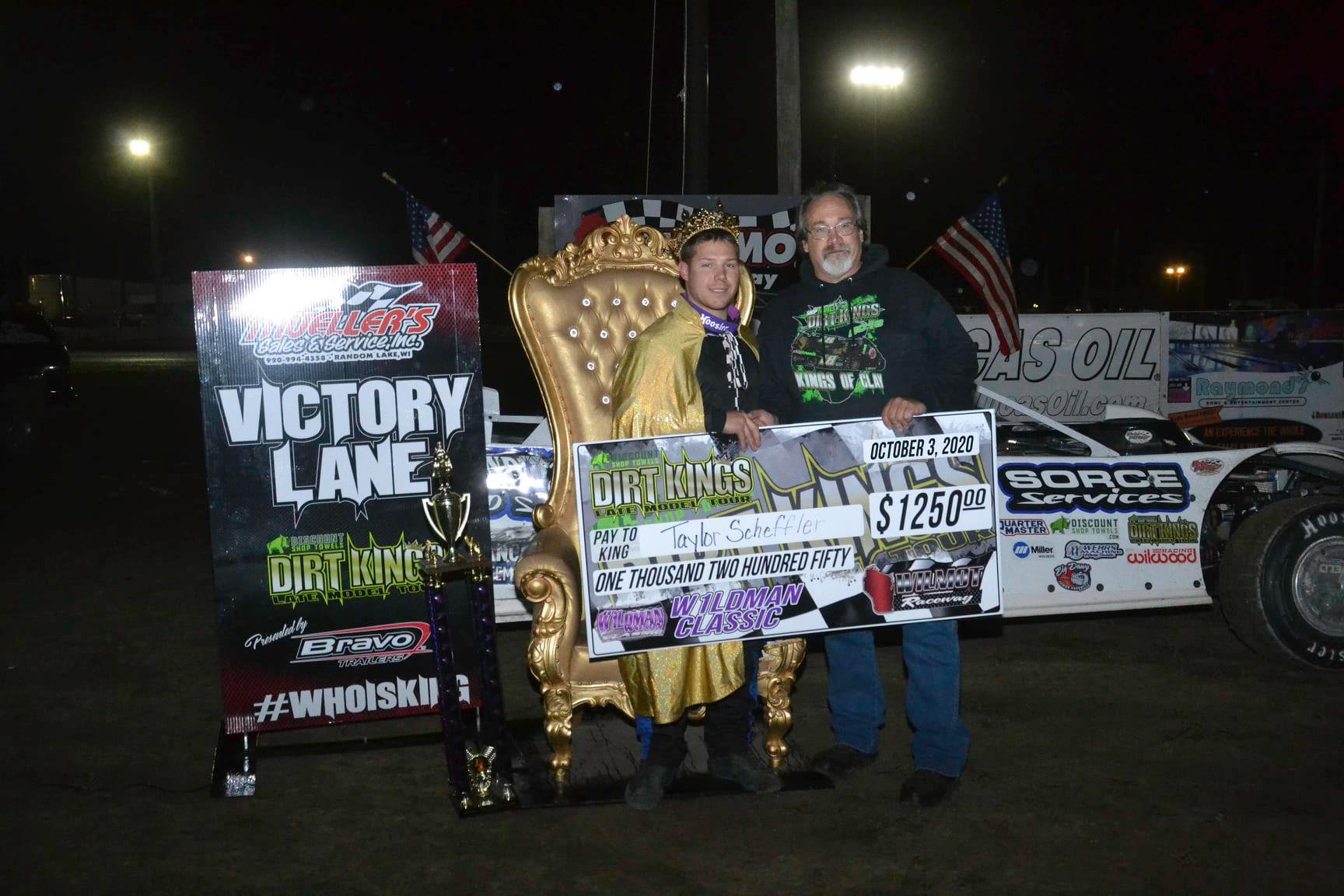 A Main Finish - 3rd Annual
Jim W1ldman Watson Classic
1 10s Taylor Scheffler
2 97 Justin Schmidt
3 70 Justin Ritchie
4 d1 Turk Letizia
5 81 Troy Springborn
6 66 Ron Berna
7 7 Joel Bennett
8 11jr Justin Reed
9 03r Kyle Raddant
10 79 Jim Schmidt
11 89 Brad Mueller
12 3 Brett Swedberg
13 21f Gunner Frank
14 D7 Jim Letizia
15 33e Chris Engels
16 5 Lukas Postl
17 36 Matthew Schultz
18 44s Dan Schlieper
19 55 Joe Bongiorno
20 95w Aaron Wickersheim
21 27dj Derek Janke
22 33s Ron Stroika
23 21 Todd Frank
Thank you to all the fans that attended The Diamond 42 last night at Plymouth Dirt Track Racing.
We apologize for the unsportsmanlike conduct that you witnessed and we have taken actions to ensure this does not happen in the future. Dirt Kings Tour strives to be family friendly and we apologize for this conduct.
As a result, Mitch McGrath has been suspended from Dirt Kings Tour events for the remainder of the 2020 season.
Jesse is King!
Plymouth, WI - Jesse Glenz scored his first DiscountShopTowels.com Dirt Kings Late Model Tour win and was crowned King of The Diamond 42 at Plymouth Dirt Track Racing in Mueller's Sales & Service Victory Lane. Glenz started The Diamond 42 on the outside of the front row, taking the early lead. Mike Mullen challenged Glenz for the lead as they approached the tail end of the field on lap fifteen, with Mullen taking the lead the next lap. Mullen and Glenz swapped the lead and Justin Reed went to the top side to take the lead on lap nineteen. Reed continued to lead the field with Glenz, Mullen, Justin Schmidt and Taylor Scheffler fighting for position.
Caution slowed the field with just thirteen laps to go and on the restart, Reed remained the leader, followed by Schmidt, Glenz, Mitch McGrath and Mullen. Reed and Glenz pulled away from the field while McGrath, Mullen, Schmidt, Brad Mueller and Scheffler worked to close the distance.
With five laps to go, Brett Swedberg spun in turn four, bringing out the caution. On the restart, Glenz charged to the outside of Reed, advancing to the top spot with McGrath, Nick Anvelink and Scheffler rounding out the top five.
Glenz remained the leader as caution slowed the field for Reed, who had come to a rest on the top side of turn two, forcing a green, white, checkered finish and extended the race an additional lap. Glenz held off Schmidt by 2.869 seconds to win The Diamond 42, taking home a check for $4200. Justin Ritchie finished third followed by Ron Berna and Scheffler.
The Diamond 42 is a tribute to Diamond Jim Letizia for his 42 years in the car sales business and 42 years in racing. Special thanks to Diamond Jim's Steakhouse for sponsoring the race.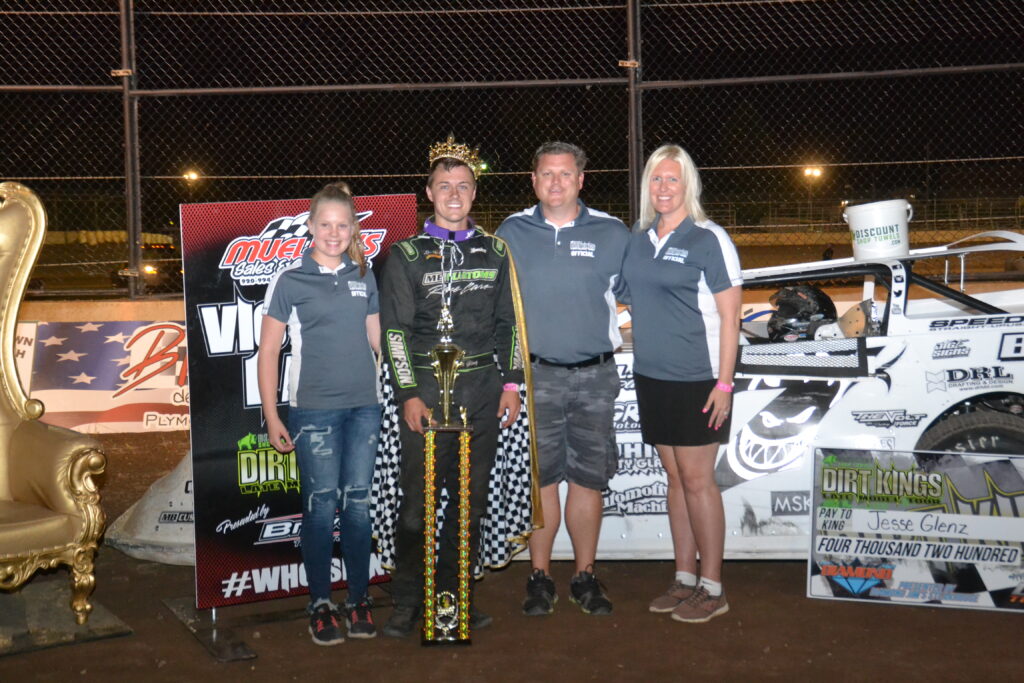 A Main Finish - Diamond 42
1 7x Jesse Glenz
2 97 Justin Schmidt
3 70 Justin Ritchie
4 66 Ron Berna
5 10s Taylor Scheffler
6 81 Troy Springborn
7 10 Paul Parker
8 95w Aaron Wickersheim
9 79 Jim Schmidt
10 15 Nick Anvelink
11 7 Joel Bennett
12 55 Joe Bongiorno
13 d1 Turk Letizia
14 11jr Justin Reed
15 89 Brad Mueller
16 1 Kevin Eder
17 3 Brett Swedberg
18 99 Mike Mullen
19 0r Mark Rose
20 33e Chris Engels
21 71 Rick Hanestad
22 16 Zack Kessler
23 74m Mitch McGrath

Keep up to date with Dirt Kings Tour headlines, pictures and events on Facebook.
We'll tweet important announcements as event details!
add username: dirtkingstour on snapchat for race day snaps and updates!
Contact us
Have a question?  We'd love to hear from you!
Email us at dirtkingstour@gmail.com