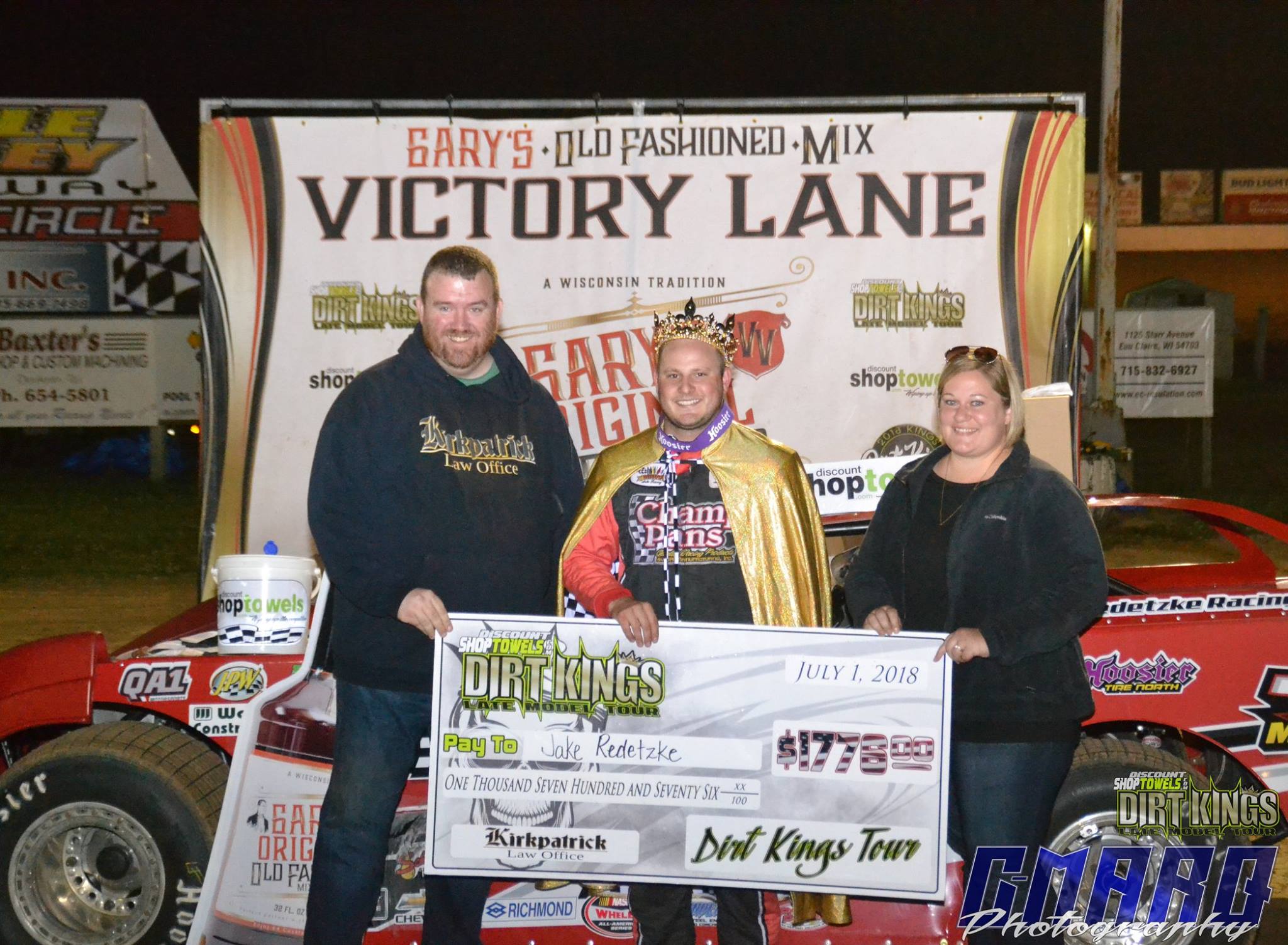 Jake Redetzke is crowned King after winning the DiscountShopTowels.com Dirt Kings Late Model Tour Independence Day Bash at Eagle Valley Speedway on Sunday, July 1, 2018.  Redetzke is joined in Gary's Old Fashioned Mix Victory Lane by Matthew and Heather Kirkpatrick from Kirkpatrick Law Office.
Jake is KING!
Jake Redetzke started the 30-lap Independence Day Bash presented by Kirkpatrick Law Office from the pole position and led every lap of the race to be crowned King in the Gary's Old Fashioned Mix Victory Lane. Redetzke made his first DiscountShopTowels.com Dirt Kings Late Model Tour start at Eagle Valley Speedway, joining an elite group of drivers who have been crowned King in their first starts: Mitch McGrath, Jimmy Mars, and AJ Diemel.
Starting from the pole allowed Redetzke to take the early lead with James Giossi as Brett Swedberg battled for third position with Diemel. Caution slowed the field on lap four as Jimmy Mars came to a sudden stop along the cushion in turn four. On the restart, Redetzke battled with Diemel for the lead as Nick Anvelink went three-wide with Swedberg and Giossi to pass for third position on lap eight.
Redetzke started to encounter the back of the field near the halfway point, but caution slowed the field again on lap sixteen for Tim Buhler as his car slowed coming out of turn two. The caution negated the lead that Redetzke had on Diemel and Anvelink and allowed Swedberg and Giossi to close the gap.
Redetzke had a great restart with no one in front of him and he began to stretch out his lead as Anvelink moved outside of Diemel to battle for second. Anvelink shuffled Diemel back to third and Anvelink set his sights on Redetzke, who had pulled out to an eight car length lead. With just four laps to go, Redetzke encountered lapped traffic and Anvelink was closing in. Coming to the white flag, Ron Berna spun in turn four, brining out the caution flag.
Caution flew on the restart as Tom Naeyaert made gentle contact with the wall in turn one. As the green lap flew, Redetzke had a clear track in front of him as Anvelink battled with Diemel for second and Swedberg battled with Giossi for fourth.
Anvelink and Diemel had to settle for second and third, respectively, with Swedberg in fourth and Giossi in fifth. Jared Siefert quietly moved to the front to finish sixth, followed by Jim Schmidt, hard-charging Jesse Glenz finished eighth. Glenz had to race through the B-Main to start eighteenth in the A-Main. John Kaanta finished ninth and Justin Schmidt rounded out the top ten.
The Independence Day Bash was also round two of the Seubert Summer Series. After two races, Anvelink leads the Seubert Summer Series point standings, followed by Swedberg, Justin Schmidt, Jim Schmidt and Mark Rose.
Independence Day Bash presented by Kirkpatrick Law Office
A-Main - 30 Laps Result
P1: 27 - Jake Redetzke
P2: 15 - Nick Anvelink
P3: 58 - AJ Diemel
P4: 3 - Brett Swedberg
P5: 11 - James Giossi
P6: 25 - Jared Siefert
P7: 70 - Jim Schmidt
P8: 7x - Jesse Glenz
P9: 85 - John Kaanta
P10: 97 - Justin Schmidt
P11: 0r - Mark Rose
P12: 1t - Adam Hensel
P13: 81 - Troy Springborn
P14: d1 - Turk Letizia
P15: b0h - Ben Hanke
P16: 98 - Tom Naeyaert
P17: 66 - Ron Berna
P18: 33e - Chris Engels
P19: 7b - Tim Buhler
P20: 28 - Jimmy Mars
B-Main 15-laps Result
P1: b0h - Ben Hanke
P2: 7x - Jesse Glenz
P3: 33e - Chris Engels
P4: 66 - Ron Berna
P5: 11 - Justin Reed
P6: 27 - Derek Janke
P7: Xg - Lucas Kallenbach
P8: 20 - Denny Cutsforth
P9: 16 - Zack Kessler
P10: 14 - Robbie Johnson
Heat Race #1 sponsored by Pro Power Racing Result
P1: 11 - James Giossi
P2: 28 - Jimmy Mars
P3: 7b - Tim Buhler
P4: d1 - Turk Letizia
P5: 1t - Adam Hensel
P6: 66 - Ron Berna
P7: 11 - Justin Reed
Heat Race #2 sponsored by Oak Ridge Foam & Coating Systems Result
P1: 58 - AJ Diemel
P2: 3 - Brett Swedberg
P3: 81 - Troy Springborn
P4: 97 - Justin Schmidt
P5: 33e - Chris Engels
P6: Xg - Lucas Kallenbach
P7: 14 - Robbie Johnson
Heat Race #3 sponsored by Londerville Steel Result
P1: 27 - Jake Redetzke
P2: 70 - Jim Schmidt
P3: 98 - Tom Naeyaert
P4: b0h - Ben Hanke
P5: 20 - Denny Cutsforth
P6: 27 - Derek Janke
Heat Race #4 sponsored by DiscountShopTowels.com Result
P1: 0r - Mark Rose
P2: 15 - Nick Anvelink
P3: 25 - Jared Siefert
P4: 85 - John Kaanta
P5: 7x - Jesse Glenz
P6: 16 - Zack Kessler
Results generated by RacePal
Allstar Performance Hard Charger Award: Jesse Glenz
Amsoil/ Freedom Synthetics: Jim Schmidt
Behling Racing Products Certificate: Mark Rose
Wehrs Machine Certificate: Jake Redetzke
Autometer Certificate: Jake Redetzke
Wilwood Lucky 13: Troy Springborn
Real Racing Wheels Hard Luck Award: Ron Berna
Keizer Aluminum Wheels Certificate: Chris Engels
Station 2 Cash: Derek Janke
Tire Raffle: Chris Engels