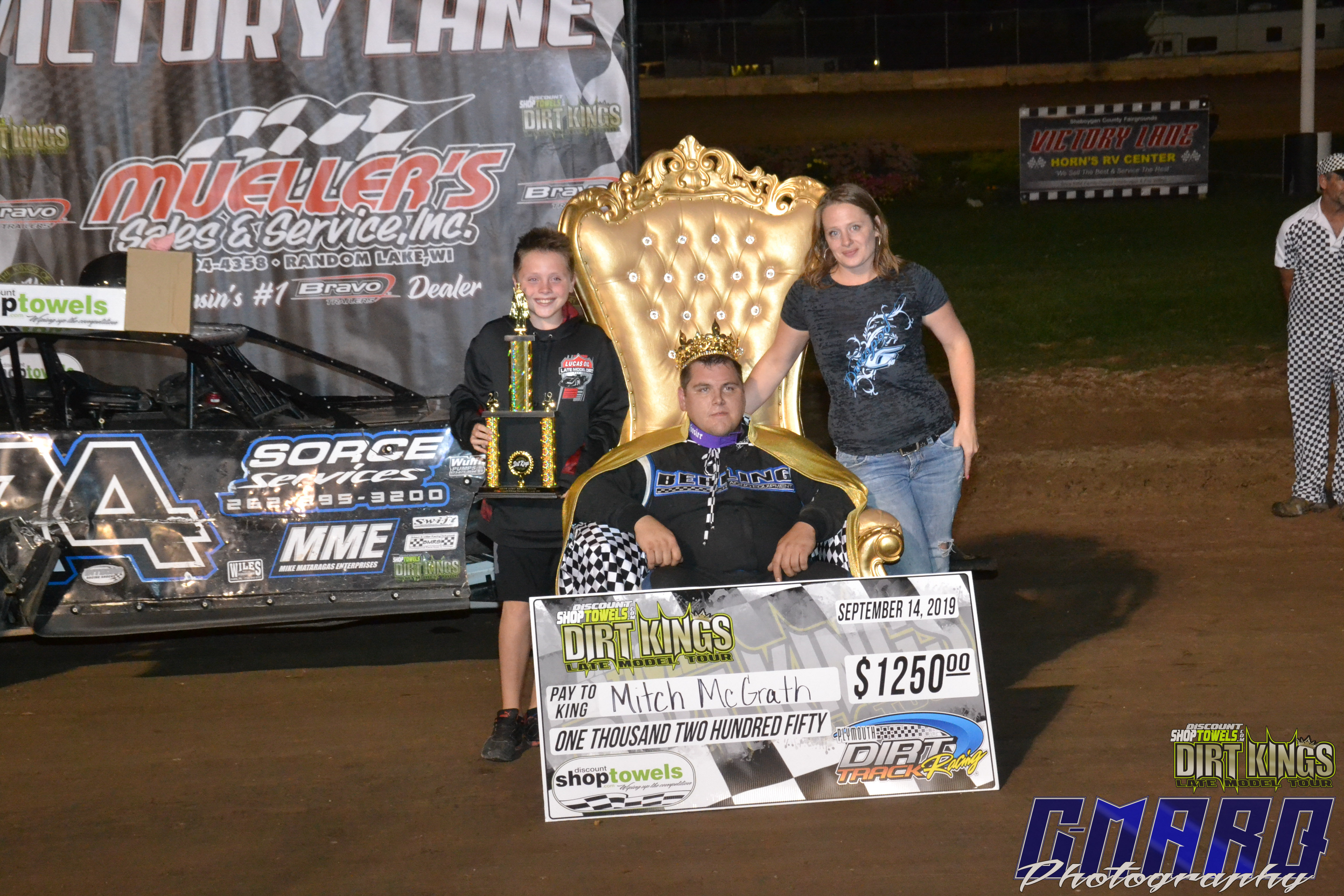 Mitch McGrath was crowned King of the DiscountShopTowels.com 30 at Plymouth Dirt Track Racing.  McGrath was joined in Mueller's Sales & Service Victory Lane by his family.
Mitch is King!
September 14, 2019 - Plymouth, WI - The DiscountShopTowels.com 30 kept fans on the edge of their seat until the very end as Taylor Scheffler led the first 29 laps of the race but his cousin, Mitch McGrath, led the final lap and was crowned King in the Mueller's Sales and Service Victory Lane at Plymouth Dirt Track Racing. McGrath started the race in fourth position and advanced to second on lap four. At this point, Scheffler had the pulled away from the field and started to work through lapped traffic on lap seven. At the halfway point, Scheffler still maintained his led, but with just ten laps remaining McGrath was closing the gap.
With five laps to go, McGrath challenged for the lead in turn two, but Scheffler prevailed. Scheffler held off McGrath again the next lap through turn two and into the backstretch. Behind them, Nick Anvelink was running third and with just three laps to go, Anvelink made his move around McGrath. Coming to the white flag, McGrath was in second position and took the inside line into turn two with Scheffler on the high side as they raced down the backstretch. McGrath took the lead away from Scheffler as they entered turn three and held on to win the DiscountShopTowels.com 30, his fifth career DiscountShopTowels.com Dirt Kings Late Model Tour win. Scheffler finished second, followed by Anvelink, Justin Reed and Troy Springborn.
DiscountShopTowels.com 30 Result
P1: 74m - Mitch McGrath
P2: 10s - Taylor Scheffler
P3: 15 - Nick Anvelink
P4: 11 - Justin Reed
P5: 81 - Troy Springborn
P6: 0r - Mark Rose
P7: 70 - Justin Ritchie
P8: 3 - Brett Swedberg
P9: 89 - Brad Mueller
P10: 7 - Joel Bennett
P11: 33e - Chris Engels
P12: 79 - Jim Schmidt
P13: d1 - Turk Letizia
P14: 9 - Tom Naeyaert
P15: 33s - Ron Stroika
P16: 55 - Joe Bongiorno
P17: 22 - Charlie Schmidt
P18: 03 - Kyle Raddant
P19: 95w - Aaron Wickersheim
P20: d7 - Jim Letizia
P21: 7b - Tim Buhler
P22: 27 - Derek Janke
B-Main Discount Shop Towels Result
P1: d1 - Turk Letizia
P2: 03 - Kyle Raddant
P3: 95w - Aaron Wickersheim
P4: 22 - Charlie Schmidt
P5: 27 - Derek Janke
P6: 39 - Cody Welch
P7: d7 - Jim Letizia
P8: 55x - Chad Ludwigson
P9: 117 - Jim Juneau
P10: 38 - Brian Gerber
Heat Race #1 sponsored by Pro Power Racing Result
P1: 10s - Taylor Scheffler
P2: 0r - Mark Rose
P3: 3 - Brett Swedberg
P4: 89 - Brad Mueller
P5: 70 - Justin Ritchie
P6: d1 - Turk Letizia
P7: 03 - Kyle Raddant
P8: 27 - Derek Janke
P9: 117 - Jim Juneau
Heat Race #2 sponsored by Mueller's Sales & Service Result
P1: 81 - Troy Springborn
P2: 7 - Joel Bennett
P3: 33e - Chris Engels
P4: 33s - Ron Stroika
P5: 55 - Joe Bongiorno
P6: 7b - Tim Buhler
P7: 66 - Ron Berna
P8: d7 - Jim Letizia
P9: 38 - Brian Gerber
Heat Race #3 sponsored by Londerville Steel Result Result
P1: 11 - Justin Reed
P2: 74m - Mitch McGrath
P3: 15 - Nick Anvelink
P4: 79 - Jim Schmidt
P5: 9 - Tom Naeyaert
P6: 22 - Charlie Schmidt
P7: 95w - Aaron Wickersheim
P8: 39 - Cody Welch
P9: 55x - Chad Ludwigson