Nick is King!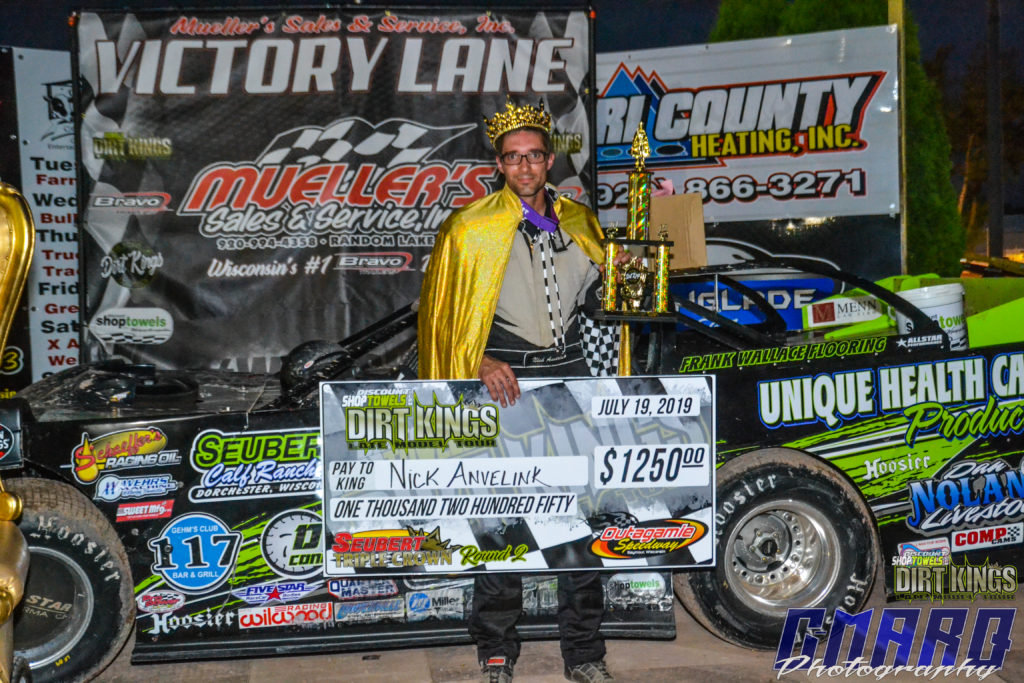 Seymour, WI - Nick Anvelink returned to the Mueller's Sales and Service Victory Lane in the second round of the Seubert Summer Series Triple Crown DiscountShopTowels.com Dirt Kings Late Model Tour race at Outagamie Speedway powered by EWSC Racing. Anvelink started the 30-lap race from seventh position and had to work his way through the field, while Taylor Scheffler and Justin Reed led the field to the green flag. Reed was on the outside of Scheffler and the two raced side by side for the lead. Reed took the top spot and they started to pull away from the field. Meanwhile, Anvelink worked his way to fifth place by lap three. The leaders started to encounter the tail end of the field on lap nine. With three wide traffic in front of them, Reed was navigating through the field, with just twelve cars on the lead lap when the caution came out with just ten laps remaining.
Caution slowed the field as Zack Kessler's car came to a halt in turn two. On the restart, the fifth place car of Brad Mueller brushed the wall on the front stretch, keeping the race under caution. As the field took the green flag with just ten laps remaining, Reed was the leader, followed by Scheffler, Anvelink and Brett Swedberg. Anvelink rolled to the inside of Reed in turn one and battled for the lead into turn three, with Anvelink ascending to the top spot. Swedberg followed suit, advancing to second place and battled with Anvelink for the lead. Swedberg drove to the inside of Anvelink going into turn one and held even with Anvelink through the backstretch but could not pull ahead and Swedberg tucked behind Anvelink for the final five laps.
Coming to the checkered flag, Swedberg got nose under Anvelink and the two made contact as they crossed the finish line with Anvelink claiming his eleventh DiscountShopTowels.com Dirt Kings Late Model Tour win, his third this season. Swedberg settled for the runner-up finish, his sixth second place finish. Troy Springborn finished third, followed by Ron Berna and Reed.
Justin Ritchie earned the Sunoco Race Fuels Rookie of the Race award with his ninth place finish, while Kyle Raddant finished thirteenth.
Discount Shop Towels Bravo Trailers LLC Sunoco Racing
Seubert Triple Crown - Round 2 Result
P1: 15 - Nick Anvelink
P2: 3 - Brett Swedberg
P3: 81 - Troy Springborn
P4: 66 - Ron Berna
P5: 11 - Justin Reed
P6: 7 - Joel Bennett
P7: 10s - Taylor Scheffler
P8: 20 - Joe Reuter
P9: 70 - Justin Ritchie
P10: 7b - Tim Buhler
P11: 0r - Mark Rose
P12: 27 - Derek Janke
P13: 03 - Kyle Raddant
P14: 33e - Chris Engels
P15: 33s - Ron Stroika
P16: 9 - Tom Naeyaert
P17: 5 - Lukas Postl
P18: d1 - Turk Letizia
P19: 55 - Joe Bongiorno
P20: 10p - Paul Parker
P21: 89 - Brad Mueller
P22: 16 - Zack Kessler
P23: 74m - Mitch McGrath
P24: 97 - Justin Schmidt
Heat Race #1 sponsored by Pro Power Racing Result
P1: 11 - Justin Reed
P2: d1 - Turk Letizia
P3: 7 - Joel Bennett
P4: 89 - Brad Mueller
P5: 20 - Joe Reuter
P6: 10p - Paul Parker
P7: 33s - Ron Stroika
P8: 16 - Zack Kessler
Heat Race #2 sponsored by Mueller's Sales & Service Result
P1: 81 - Troy Springborn
P2: 15 - Nick Anvelink
P3: 3 - Brett Swedberg
P4: 7b - Tim Buhler
P5: 66 - Ron Berna
P6: 70 - Justin Ritchie
P7: 27 - Derek Janke
P8: 55 - Joe Bongiorno
Heat Race #3 sponsored by Londerville Steel Result
P1: 10s - Taylor Scheffler
P2: 97 - Justin Schmidt
P3: 74m - Mitch McGrath
P4: 03 - Kyle Raddant
P5: 0r - Mark Rose
P6: 33e - Chris Engels
P7: 9 - Tom Naeyaert
P8: 5 - Lukas Postl
Results generated by RacePal
Allstar Performance Hard Charger Award: Ron Berna
Amsoil/Freedom Synthetics: Justin Ritchie
Behling Racing Products Certificate: Nick Anvelink
Wehrs Machine Certificate: Justin Reed
Autometer Certificate: Justin Reed
Wilwood Lucky 13: Kyle Raddant
QuarterMaster Hard Luck Award: Justin Schmidt
Keizer Aluminum Wheels Certificate: Turk Letizia
Sunoco Race Fuels Rookie of the Race: Justin Ritchie