Dustin is King!
Fountain City, WI - Dustin Sorensen was crowned King of the DiscountShopTowels.com Dirt Kings Late Model Tour $5000-to-win Firecracker 40 - Night 2 at Mississippi Thunder Speedway. Sorensen started the Firecracker 40 from the pole position, after the redraw. Sorensen and Taylor Scheffler led the field to the green flag and Sorensen took the early lead. Jesse Glenz challenged Sorensen for the lead as caution slowed the field on lap five, for Lance Matthees who had slowed in turn four and again on the restart when Steve Laursen slowed in turn two.
On the restart, Glenz made it three wide with Sorensen on the high side and Scheffler on the bottom of the track. Glenz couldn't make it stick and followed Sorensen to the line. Glenz continued to battle Sorensen for the lead until the leaders encountered the end of the field. At halfway, Sorensen had lapped traffic racing three wide in front of him until caution slowed the field with just 18 laps to go, as Glenz slowed on the track.
Sorensen maintained his lead as Jake Redetzke raced inside Jake Timm for second position with Ryan Unzicker and Mark Rose rounding out the top five. Unzicker made the pass on Redetzke for third and set his sights on Timm, who was about ten car lengths behind Sorensen. Caution slowed the field on final time when Chris Engels slowed in turn three.
Sorensen led the field to the restart, with Unzicker racing to the inside of Timm as they raced into turn one and two, with Timm trying the inside as they raced through turn three. Unzicker made the pass stick and he set his sights on Sorensen while Brett Swedberg made a move to the inside of for fourth position, with Redetzke holding him off. Sorensen went on to finish 1.098 seconds ahead of Unzicker and visited Mueller's Sales & Service Victory Lane for the first time in his career.
Timm finished third, followed by Redetzke, Swedberg, Ron Berna, Justin Reed, Justin Schmidt, Gunner Frank and Troy Springborn.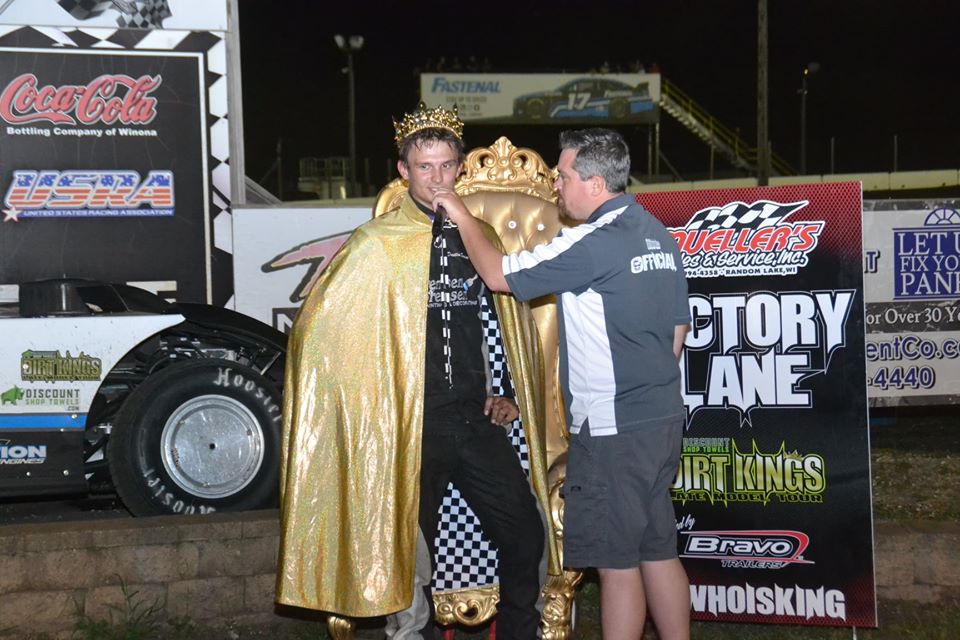 A Main Finish - Firecracker 40 - Night 2
1 19 Dustin Sorensen
2 24 Ryan Unzicker
3 49 Jake Timm
4 27j Jake Redetzke
5 3 Brett Swedberg
6 66 Ron Berna
7 11jr Justin Reed
8 97 Justin Schmidt
9 21f Gunner Frank
10 81 Troy Springborn
11 22d Daniel Hilsabeck
12 85 John Kaanta
13 70 Justin Ritchie
14 21 Todd Frank
15 d1 Turk Letizia
16 0r Mark Rose
17 33e Chris Engels
18 9t Tim Isenberg
19 7x Jesse Glenz
20 10s Taylor Scheffler
21 25 Jared Siefert
22 95w Aaron Wickersheim
23 519 Steve Laursen
24 90 Lance Matthees
Kirkpatrick Law Office B Main #1 Results
1 519 Steve Laursen
2 11jr Justin Reed
3 21 Todd Frank
4 33e Chris Engels
5 28 Sam Mars
6 5 Lukas Postl
7 d1 Turk Letizia
8 95w Aaron Wickersheim
9 27dj Derek Janke
Heat 1 - Pro Power Racing Engines - Results
1 21f Gunner Frank
2 0r Mark Rose
3 10s Taylor Scheffler
4 25 Jared Siefert
5 27dj Derek Janke
6 33e Chris Engels
7 5 Lukas Postl
Heat 2 - Mueller's Sales and Service - Results
1 27j Jake Redetzke
2 90 Lance Mathees
3 22d Daniel Hilsabeck
4 24 Ryan Unzicker
5 85 John Kaanta
6 21 Todd Frank
7 95w Aaron Wickersheim
Heat 3 - Wehrs Machine & Racing Products - Results
1 7x Jesse Glenz
2 97 Justin Schmidt
3 66 Ron Berna
4 81 Troy Springborn
5 70 Justin Ritchie
6 11jr Justin Reed
7 28 Sam Mars
Heat 4 - Discount Shop Towels - Results
1 19 Dustin Sorensen
2 9t Tim Isenberg
3 49 Jake Timm
4 3 Brett Swedberg
5 519 Steve Laursen
6 d1 Turk Letizia