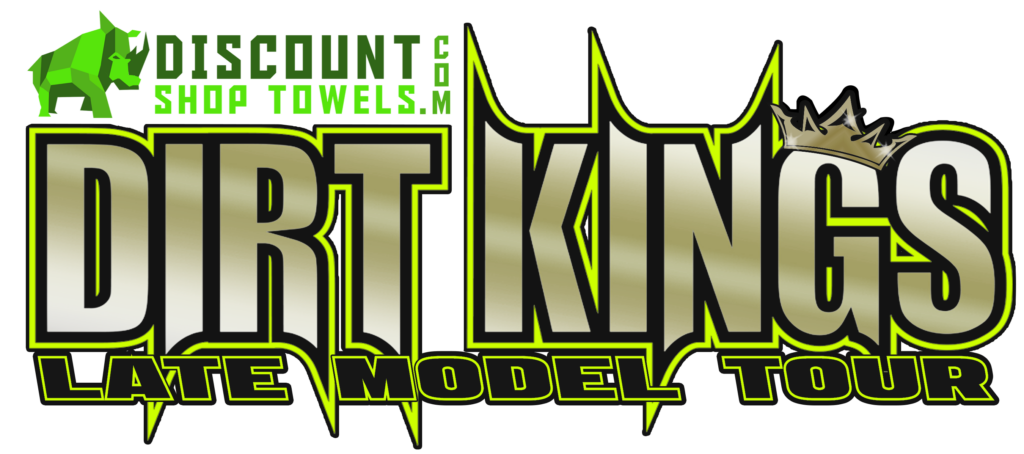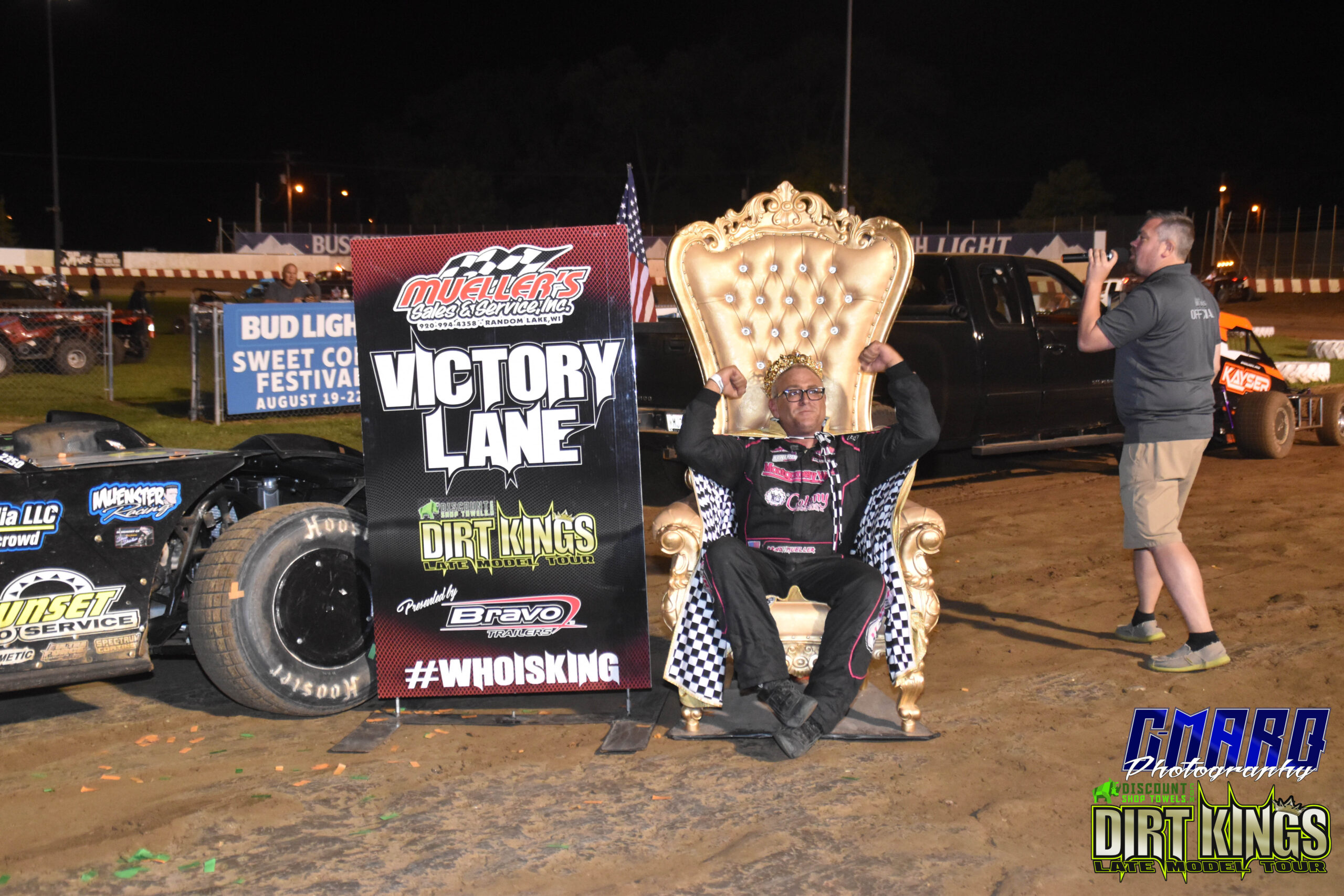 Sun Prairie, WI - Brad Mueller was crowned King of the Park at Angell Park Speedway, earning his second career DiscountShopTowels.com Dirt Kings Late Model Tour victory. Mueller started the 25-lap King of the Park from the pole position, after the re-draw. Mueller and Nick Anvelink led the field to the green flag, racing side-by-side into turn one with Anvelink having the advantage on the outside and taking the lead. Mueller settled into second position as Anvelink started to pull away. Anvelink reached the tail end of the field on lap seven and then began to work through traffic with Mueller, Brett Swedberg and Mitch McGrath closing in. At the halfway point, Anvelink still led the field with Mueller, Swedberg, McGrath and Jayme Zidar rounding out the top five. With great racing all around the track, McGrath moved to second spot as he dove to the inside of Mueller in turn two. Caution flew the next lap with just six laps to go as Turk Letizia and Kyle Raddant spun in turn four.
With just six laps to go, Anvelink led the field to the green flag with ten cars on the lead lap. McGrath moved to the outside of Anvelink as they raced into turn three on the next lap making the pass as they entered the front stretch. Unfortunately, McGrath had a tire going flat and turned into Anvelink. This happened infront of the field and they both spun into turn one, bringing out the caution. Both McGrath and Anvelink were unable to continue with flat tires, ending their nights.
With five laps remaining, Mueller led the field to the green flag with Swedberg, Zidar, Ron Berna and Justin Ritchie rounding out the top five. Mueller ran the inside line while Zidar raced to the outside of Swedberg for position and tried to make it hold when he reached the leader. Mueller held onto the lead with Swedberg behind Mueller and Zidar working the outside. On the white flag, Mueller continued to led the field with Zidar in second. Mueller held on to be crowned King of the Park in Mueller's Sales & Service Victory Lane, while Swedberg passed Zidar for second spot as they raced through turn four. Swedberg finished second, 1.956 seconds behind Mueller. Zidar finished third .007 seconds aheads of Berna at the checkered flag, with Ritchie in fifth.
McGrath had the fastest lap in qualifying, with a 14.242, earning the Champ Pans Fast Qualifier Award. McGrath, Anvelink and Mueller each won their 10-lap heat races and a spot in the re-draw along with Swedberg, Berna and Zidar.
A Main Finish - King of the Park
1 89 Brad Mueller
2 3 Brett Swedberg
3 9z Jayme Zidar
4 66 Ron Berna
5 70 Justin Ritchie
6 21f Gunner Frank
7 d1 Turk Letizia
8 03r Kyle Raddant
9 R1 Randy Manos
10 7 Joel Bennett
11 33e Chris Engels
12 5 Lukas Postl
13 40 Ron Stroika
14 15 Nick Anvelink
15 74m Mitch McGrath
16 21 Todd Frank
17 55 Joe Bongiorno
18 90 Joel Willman
19 44 Wayne Freimund
20 77 Bill Edler
21 99 Sawyer Specht
Heat 1 - Pro Power Racing Engines - Results
1 15 Nick Anvelink
2 3 Brett Swedberg
3 d1 Turk Letizia
4 R1 Randy Manos
5 55 Joe Bongiorno
6 77 Bill Edler
7 5 Lukas Postl
Heat 2 - Mueller's Sales & Service - Results
1 89 Brad Mueller
2 66 Ron Berna
3 70 Justin Ritchie
4 21 Todd Frank
5 7 Joel Bennett
6 33e Chris Engels
7 99 Sawyer Specht
Heat 3 - Wehrs Machine & Racing Products - Results
1 74m Mitch McGrath
2 9z Jayme Zidar
3 21f Gunner Frank
4 03r Kyle Raddant
5 40 Ron Stroika
6 90 Joel Willman
7 44 Wayne Freimund
Qualifying Group 1 Results
1 d1 Turk Letizia 14.778
2 15 Nick Anvelink 15.007
3 3 Brett Swedberg 15.071
4 R1 Randy Manos 15.383
5 55 Joe Bongiorno 15.409
6 5 Lukas Postl 15.498
7 77 Bill Edler 15.863
Qualifying Group 2 Results
1 89 Brad Mueller 14.487
2 66 Ron Berna 15.082
3 70 Justin Ritchie 15.203
4 21 Todd Frank 15.286
5 7 Joel Bennett 15.366
6 99 Sawyer Specht 15.847
7 33e Chris Engels 15.992
Qualifying Group 3 Results
1 74m Mitch McGrath 14.242
2 9z Jayme Zidar 14.992
3 21f Gunner Frank 15.080
4 03r Kyle Raddant 15.249
5 40 Ron Stroika 15.528
6 44 Wayne Freimund 16.323
7 90 Joel Willman 17.195
---
2021 DiscountShopTowels.com Dirt Kings Late Model Tour Schedule
Saturday - April 17 / Shawano Speedway / Gehm's Club 117 Spring Thaw
Sunday - May 16 / Wilmot Raceway / The Diamond 43
Sunday - May 23 / Gravity Park Speedway / Battle to be King presented by DiscountShopTowels.com
Friday - May 28 / Outagamie Speedway / Salute to Service 30
Friday - June 11 / Eagle Valley Speedway / Stars & Stripes 30
Friday - July 2 / Outagamie Speedway / Mid Summer Showdown
Saturday - July 3 / Shawano Speedway / Gehm's Club 117 Kings Classic
Friday - July 9 / Mississippi Thunder Speedway / Firecracker 40 presented by Arcadia Chrysler, Dodge, Jeep, Ram
Tuesday - August 3 / Outagamie Speedway / with World of Outlaws Late Model Tour
Sunday - August 15 / Angell Park Speedway / King of the Park
Friday - August 20 / Mississippi Thunder Speedway / Rumble by the River 40 presented by Hurco & Stone Machinery
Friday - August 27 / Plymouth Dirt Track Racing / Mueller's Sales & Service 30
Sunday - September 5 / TNT Speedway / Labor Day Shootout
Friday- September 10 / Sycamore Speedway / Summer Sizzler
Saturday - September 11 / Wilmot Raceway / Jim "Wildman" Watson Classic
Saturday - September 18 / Outagamie Speedway / Crowning of the King