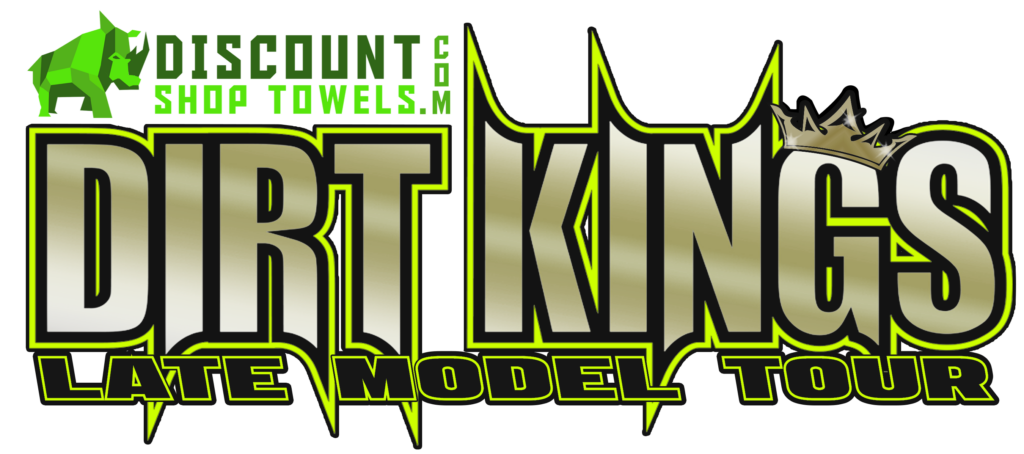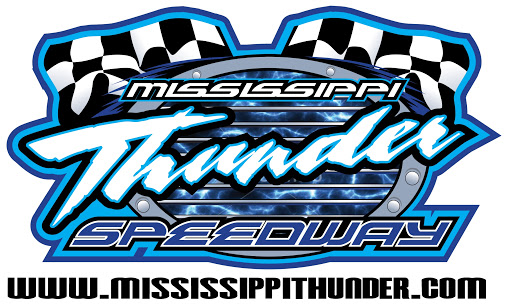 Fountain City, WI - Chad Mahder visited Mueller's Sales & Service Victory Lane at Mississippi Thunder Speedway for the first time in his DiscountShopTowels.com Dirt Kings Late Model Tour career and was crowned King of the $5,000-to-win Rumble by the River 40 presented by HURCO and Stone Machinery. Mahder finished second in his heat race and participated in the re-draw, earning the outside pole for the A-Main. Kyle Raddant won his heat race and started on the pole for the Rumble by River 40. Raddant and Mahder led the field to the green flag, with Mahder and Raddant battling into turn one. Mahder had the advantage as they came out of turn two. Mahder paced the field until caution came out after the completion of lap 27.
Before the caution, Dustin Sorensen was in pursuit of Mahder as they worked through the tail end of the field. Sorensen's night ended with the caution as his motor expired. With just 13 laps to go, Mahder led Gunner Frank, Taylor Scheffler, James Giossi and Jake Timm to the green flag. Scheffler raced to the inside of Frank in turn two and made contact and slowed down the progress for Giossi and Timm as Jimmy Mars ascended to second spot. Mahder continued to lead the field with Mars in pursuit of the lead. Mahder was beginning to reach the tail end of the field with just two laps to go. On the white flag lap, Madher held off Mars, who tried to make a run on the inside, and Mahder led all 40-laps of the Rumble by the River 40. Mars finished second, followed by Nick Anvelink, Timm, and Giossi.
With his sixth place finish, Raddant earned a $50 bonus from Attorney Matthew Kirkpatrick from Kirkpatrick Law Office in memory of Aaron Bennett and Brett Swedberg earned a $50 bonus for finishing seventh in memory of Diamond Jim Letizia.
A Main Finish - Rumble by the River 40
1 55c Chad Mahder
2 28m Jimmy Mars
3 15 Nick Anvelink
4 49 Jake Timm
5 11 James Giossi
6 03r Kyle Raddant
7 3 Brett Swedberg
8 70 Justin Ritchie
9 66 Ron Berna
10 58 AJ Diemel
11 21 Todd Frank
12 5 Lukas Postl
13 7 Joel Bennett
14 90M Lance Mathees
15 33e Chris Engels
16 89 Brad Mueller
17 21f Gunner Frank
18 10s Taylor Scheffler
19 19 Dustin Sorensen
20 20s Rodney Sanders
21 95w Aaron Wickersheim
22 81 Troy Springborn
23 7x Jesse Glenz
24 27dj Derek Janke
25 9z Jayme Zidar
Heat 1 - Pro Power Racing Engines - Results
1 03r Kyle Raddant
2 21f Gunner Frank
3 81 Troy Springborn
4 90 Joel Willman
5 21 Todd Frank
6 5 Lukas Postl
7 89 Brad Mueller
Heat 2 - Mueller's Sales & Service - Results
1 28m Jimmy Mars
2 70 Justin Ritchie
3 49 Jake Timm
4 15 Nick Anvelink
5 20s Rodney Sanders
6 33e Chris Engels
Heat 3 - Wehrs Machine & Racing Products - Results
1 10s Taylor Scheffler
2 19 Dustin Sorensen
3 3 Brett Swedberg
4 27dj Derek Janke
5 95w Aaron Wickersheim
6 9z Jayme Zidar
Heat 4 - DiscountShopTowels.com - Results
1 11 James Giossi
2 55c Chad Madher
3 66 Ron Berna
4 7x Jesse Glenz
5 58 AJ Diemel
6 7 Joel Bennett
---
2021 DiscountShopTowels.com Dirt Kings Late Model Tour Schedule
Saturday - April 17 / Shawano Speedway / Gehm's Club 117 Spring Thaw
Sunday - May 16 / Wilmot Raceway / The Diamond 43
Sunday - May 23 / Gravity Park Speedway / Battle to be King presented by DiscountShopTowels.com
Friday - May 28 / Outagamie Speedway / Salute to Service 30
Friday - June 11 / Eagle Valley Speedway / Stars & Stripes 30
Friday - July 2 / Outagamie Speedway / Mid Summer Showdown
Saturday - July 3 / Shawano Speedway / Gehm's Club 117 Kings Classic
Friday - July 9 / Mississippi Thunder Speedway / Firecracker 40 presented by Arcadia Chrysler, Dodge, Jeep, Ram
Tuesday - August 3 / Outagamie Speedway / with World of Outlaws Late Model Tour
Sunday - August 15 / Angell Park Speedway / King of the Park
Friday - August 20 / Mississippi Thunder Speedway / Rumble by the River 40 presented by Hurco & Stone Machinery
Friday - August 27 / Plymouth Dirt Track Racing / Mueller's Sales & Service 30
Sunday - September 5 / TNT Speedway / Labor Day Shootout
Friday- September 10 / Sycamore Speedway / Summer Sizzler
Saturday - September 11 / Wilmot Raceway / Jim "Wildman" Watson Classic
Saturday - September 18 / Outagamie Speedway / Crowning of the King