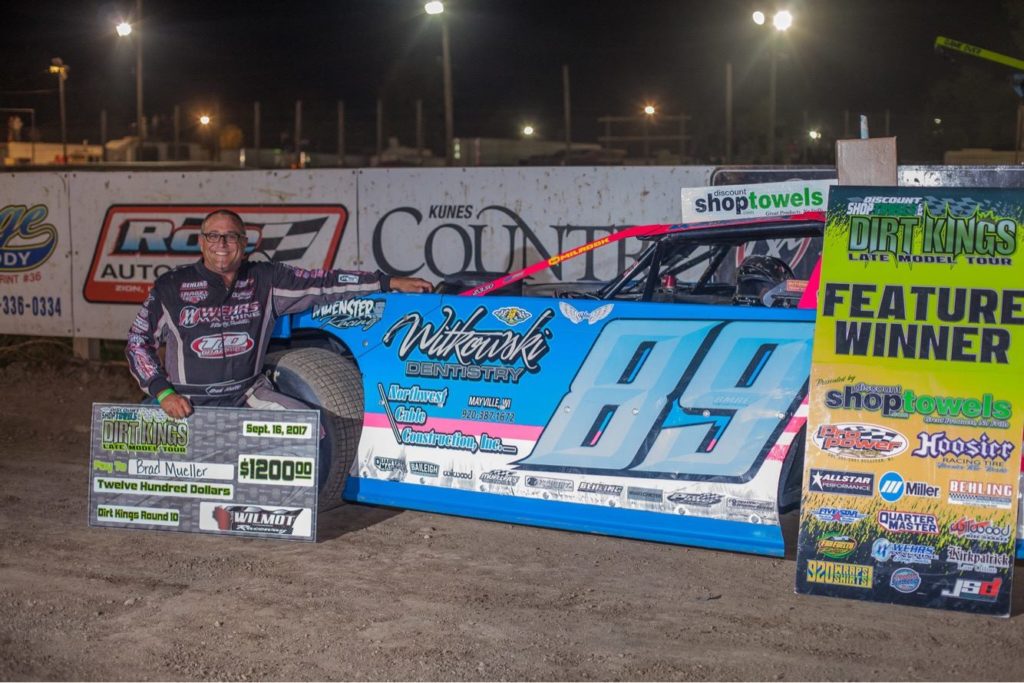 Brad Mueller is King!
Saturday, September 16, 2017
Brad JJ Mueller wins Round 10 of the DiscountShopTowels.com Dirt Kings Late Model Tour at Wilmot Raceway. Mueller started the 30-lap A-Main outside row one and raced side by side with Tim Buhler, taking the lead coming out of turn two on lap two. A caution slowed the field as Brett Swedberg and Buhler battled for second and Troy Springborn in fourth. Mueller had a close call at the halfway point as he tangled with Victor Benedetto but was able to hold on. Caution slowed ...the field before the lap could be completed and on the restart Swedberg, Mitch McGrath, Jim Letizia, Taylor Scheffler and Chris Carlson got together in turn one, bringing out the red flag.
Mueller had a sizable lead after the restart, but caution slowed the race again with six to go. Buhler, Springborn and Hirt battled for second on the restart. Buhler held on to finish second, followed by Justin Schmidt, Hirt and Springboard. #BradisKing#dirtkings#dirtkingstour#rollwiththekings
9-16-17 Wilmot Raceway A-Main Result
P1: 89 - Brad Mueller
P2: 7b - Tim Buhler
P3: 97 - Justin Schmidt
P4: 27h - Justin Hirt
P5: 81 - Troy Springborn
P6: 25 - Jared Siefert
P7: 66 - Ron Berna
P8: 21 - Reno Markham
P9: 33e - Chris Engels
P10: 3 - Brett Swedberg
P11: 7 - Joel Bennett
P12: 33s - Ron Stroika
P13: 14 - Victor Benedetto
P14: d7 - Jim Letizia
P15: 70 - Jim Schmidt
P16: 74m - Mitch McGrath
P17: c12 - Chris Carlson
P18: 10s - Taylor Scheffler
P19: 5h - Jeff Hartzell
P20: 8r - Bill Rezutek
B-Main Result
P1: 10s - Taylor Scheffler
P2: 66 - Ron Berna
P3: 8r - Bill Rezutek
P4: 33b - Joe Bongiorno
P5: 1 - Doug Blashe
P6: 01 - Greg Cantrell Jr.
P7: 7 - Joel Bennett
P8: 87 - Adam Janke
P9: 95w - Aaron Wickersheim
DNS: Dan Schlieper
Allstar Performance Hard Charger Award: Ron Berna
Amsoil/ Freedom Synthetics: Ron Berna
Fan Fueled Racing Pole Award: Tim Buhler
Behling Racing Products Certificate: Justin Hirt
QuarterMaster Certificate: Brett Swedberg
Wehrs Machine Certificate: Brad Mueller
Wilwood Lucky 13: Victor Benedetto