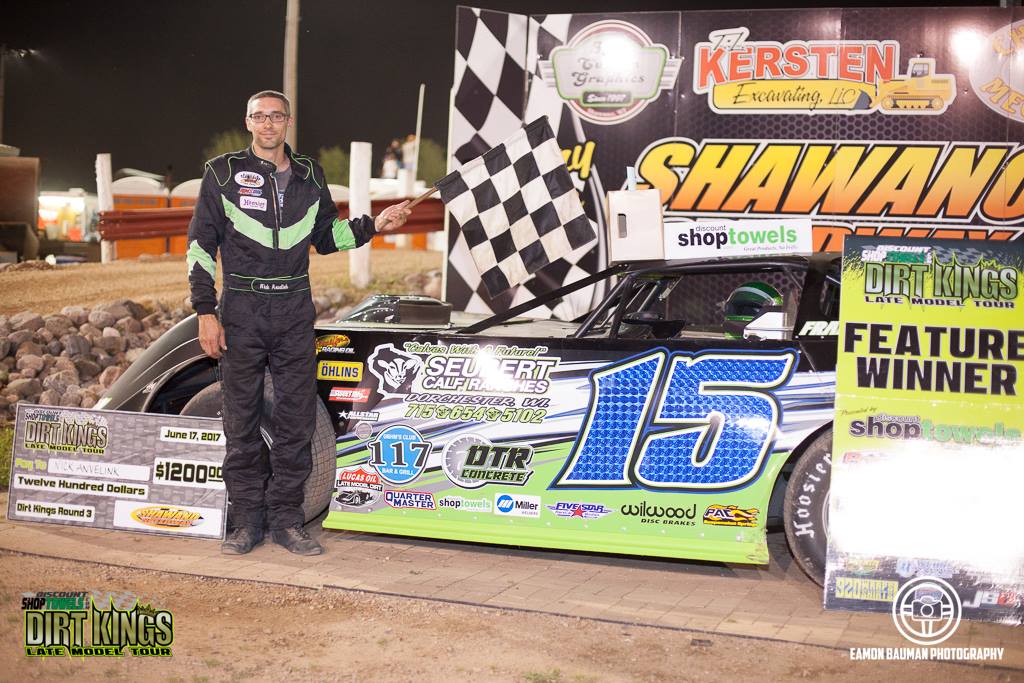 Nick is King!
Nick Anvelink takes the win in Round 3 of the DiscountShopTowels.com Dirt Kings Late Model Tour at Shawano Speedway. Anvelink, who is also the points leader, started on the pole and led all 25 laps. Anvelink held off a charge from Brett Swedberg, who finished a close second.
The crew at Shawano Speedway did a great job preparing the track for tonight, as they had to deal with lots of rain this week.
Jared Siefert started from the tail of the field, passing 11 cars to finish ninth, after using the high side to earn the Hard Charger Award.
Official Finish
1 15 Nick Anvelink
2 3 Brett Swedberg
3 66 Ron Berna
4 70 Jim Schmidt
5 15s Rick Scheffler
6 81 Troy Springborn
7 99 Mike Mullen
8 97 Justin Schmidt
9 25 Jared Siefert
10 27 Justin Hirt
11 56 Tim Rothe
12 20 Joe Reuter
13 1 Doug Blashe
14 7 Joel Bennett
15 95w Aaron Wickersheim
16 122 Cole Spacek
17 11jr Jeff Curtin
18 17m Josh Moesch
19 d7 Jim Letizia
20 33e Chris Engels
B-Main (12 Laps) - (Top 3 Advanced to A-Main)
1 7 Joel Bennett
2 33e Chris Engels
3 11 Jeff Curtin
4 7b Tim Buhler
5 c12 Chris Carlson
6 13 David Jaeger
7 25 Jared Siefert
8 74m Mitch McGrath
9 75 Jeremy Kazynski
10 5 Lukas Postl
11 99r Aaron Reivitis
12 33s Ron Stroika
13 87 Adam Janke
14 10s Taylor Scheffler
15 48h Carl Hidde
Allstar Performance Hard Charger Award: Jared Siefert
Amsoil/ Freedom Synthetics: Tim Rothe
Behling Racing Products Certificate: Tim Rothe
QuarterMaster Certificate: Justin Hirt
Wehrs Machine Certificate: Nick Anvelink
Wilwood Lucky 13: Doug Blashe
Tire Raffle Winner: Brett Swedberg
#dirtkings #dirtkingstour #NickisKing
Photo Credit: Eamon Bauman Photography